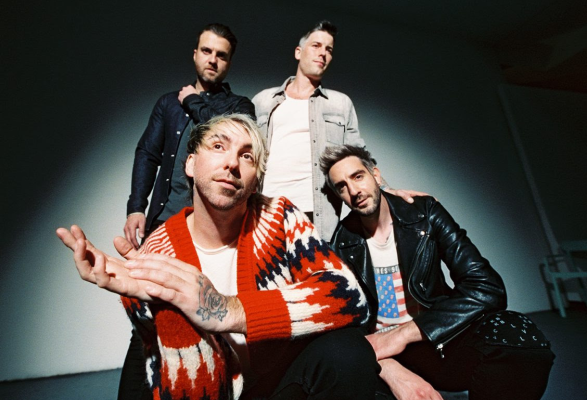 All Time Low have announced brand new album 'Tell Me I'm Alive', due out on 17 March 2023.
The multi-platinum band have also revealed the full-length's title track alongside an official music video, directed by Alex Gaskarth and Djay Brawner.
WATCH HERE:
'Tell Me I'm Alive' is the second track to be revealed from the upcoming album and follows 'Sleepwalking', which marked their first new release since 2021.
Discussing the track, vocalist and guitarist Alex Gaskarth commented, "Sleepwalking is a reflection on time spent away from whatever it is that makes you feel alive, on time lost to the weight of dragging feet and drifting thoughts. As we were working on this song, we considered our place in a changing world– We realised just how affected we were as individuals by time spent away from our most familiar life-lines, and how grateful we are now to come together with those people, places and things… our friends, families, touring, shows, art and the energy and perspective that comes with real, raw connection. Our time spent away from our most beloved dreams felt like being on cruise-control, going through the motions in a trance. We are so grateful to be here now, sharing this song, this sentiment, this energy, and most of all this band with you. Thank you for being here and for being with us as we continue this journey together."
The band unveiled an official music video to accompany the song, directed by Eduoardo Ranaboldo.
WATCH HERE:
All Time Low's last studio album 'Wake Up, Sunshine' dropped back in April 2020 and debuted at No.1 on Billboard's Top Rock Albums Chart.
The pop punk outfit will bring their European headline tour to the UK & Ireland this spring, with support from Set It Off, Lauran Hibberd and Games We Play – full details below:
Dublin 3Olympia Theatre, 13 March
Glasgow O2 Academy, 15
London OVO Arena Wembley, 17
Remaining tickets on sale now from Ticketmaster AXS Ticketweb See Tickets
The full album tracklisting for 'Tell Me I'm Alive' is yet to be revealed.
Photo by Ashley Osborn / PRESS