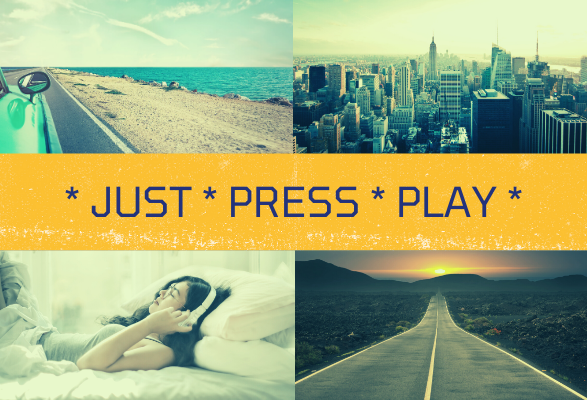 Whether your ideal holiday is a sunshine escape or a winter adventure, one thing we all have in common right now is that we're all itching to get away! To help you escape during lockdown, here are some of our favourite songs about and inspired by some amazing locations around the world.
Get ready to arrive at your dream destination in 3, 2, 1…
I Got U – Duke Dumont ft. Jax Jones
What better way to take a virtual trip than with a virtual headset, and a killer summer song as your soundtrack? The island-hopping music video stars model/actor Rique and New Zealand model Kylee Tan, and was filmed in Thailand in locations between Bangkok and Phuket.
Budapest – George Ezra
How about a cultural break in Hungarian's capital city? Or press skip and transport yourself to Spain with track 'Barcelona', which also happens to be the same city that inspired Ezra's huge hit single 'Shot Gun'.
Paris – Friendly Fires
The kaleidoscopic music video about the city of love is lifted from the band's debut album, which also spawned singles 'Jump In The Pool, 'Skeleton Boy' and 'Kiss Of Life'.
Party In The USA – Miley Cyrus
Fancy a trip to Hollywood? Miley's 2009 song was in fact co-written by and for British singer Jessie J, who penned the track alongside Dr. Luke and Claude Kelly.
L.A.LOVE (La La) – Fergie
The single features on Fergie Ferg's second studio album 'Double Dutchess' and gives a shout out to locations across the globe.
Empire State of Mind – Jay Z ft. Alicia Keys
Jay Z and Alicia Keys' Grammy-winning smash hit is the anthem of New York with an iconic sing along chorus that inspires us to dream big.
On The Floor – Jennifer Lopez ft. Pitbull
Get ready to dance the night away in "Brazil, Morocco, London to Ibiza, straight to LA, New York, Vegas to Africa" with Mr Worldwide himself!
We're Going To Ibiza! – Vengaboys
It's time to jump on board the Vengabus and head to the ultimate party island…WOAH!
Africa – Toto
The California rockers might have released this legendary track way back in 1982, but to this day they still have us longing for and blessing those rains down in Africa.
Paradise – Coldplay
The video was shot on location in South Africa in between the band's concerts in Cape Town and Johannesburg concerts. From roaming around the Mother City to unicycling across the Karoo in an elephant costume, it has all you need for a virtual trip to Africa.
Nobody To Love – Sigma
Also shot in sunny South Africa, the video embraces beach life and road tripping and is sure to get you amped with its feel-good summer vibes.
So, where to next? ?