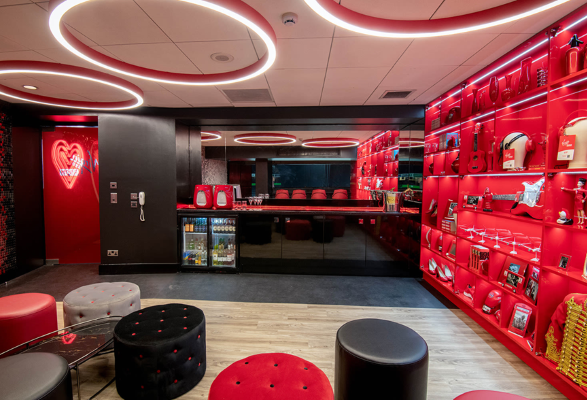 Well here we are at the Manchester AO Arena and McFly are playing to a packed arena, but it's not really the band we have come to see. What we are witnessing is the launch of Virgin's Red Room VIP Suite, which you can access through their new rewards club by gaining points by making everyday purchases – you don't have to be a customer, just sign up for free and start earning those points.
The Virgin Red Room comes with great VIP perks, like complimentary parking right by the arena, and fast-track entry to skip the queues. Once you're inside, the star factor continues with a private pay bar and waiter service to deliver drinks to your seat. There's also a private cloakroom and en-suite bathroom, along with a Virgin Red glitter wall for all your selfies.
The room holds 16 guests in total, meaning there's plenty of space to enjoy the show. And with world class artistes and bands playing regularly at this fantastic venue, you won't get a better view! Believe me, we love getting up close to all of the acts we cover for the atmosphere, and we were worried this may suffer from being in a suite. Not in the least, it was every bit as good, but with added comfy seats!
Virgin Red have teamed up with over 150 partners so there are lots of opportunity to gain points to use this fantastic suite, and don't forget it's not just music. The AO Arena is home to many different shows and events, just take your pick, and if all goes well Virgin have plans to open up more VIP suites at other venues. Brilliant!
Many thanks to Kate Cashmore and Jodie Burton for being so friendly and taking care of us on the night.
By the way, McFly were very good as well. ?
Review by Geoff & Jenny Griffe