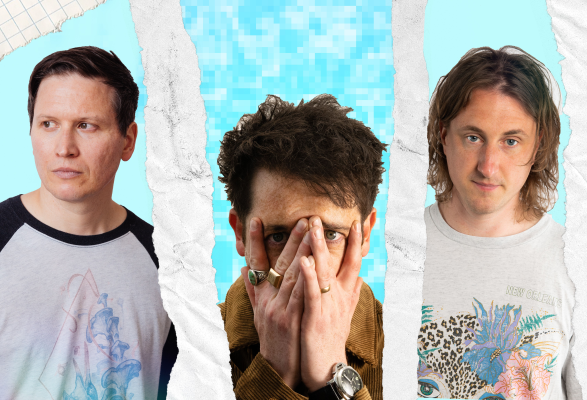 Following the recent release of brand new track 'Method To The Madness', The Wombats have announced their biggest UK headline show to date!
The Liverpool-formed trio will be live at The O2, London on 15 April 2022 with a special one-off 'All The Hits' set of their classic indie tunes.
Tickets on sale Friday (11 June) at 9am from AXS Ticketmaster See Tickets
From 'Moving To New York' to 'Method To The Madness', through to 'Greek Tragedy', 'Let's Dance To Joy Division' and beyond, it will see The Wombats perform a career-spanning greatest hits set for the first time ever.
This landmark show will also be the band's first in the capital since they played Wembley Arena in 2019.
'Method To The Madness' is The Wombats' first offering since their highest charting album to date, 2018's UK Top 3 Beautiful People Will Ruin Your Life. The track is accompanied by a Aaron Brown-directed video, shot in Mexico.
Frontman Matthew 'Murph' Murphy commented, "'Method To The Madness' is about trying to find patterns within chaos and ultimately giving up, and letting go. Some of the lyrics are lifted from my own honeymoon experience – walking around European cities, being amongst tourists whilst simultaneously being one myself, and generally blagging it with last minute hotel bookings. Feeling excitement but still being fully aware that nothing much has changed."
CHECK OUT THE MUSIC VIDEO HERE:
15 years and three top 5 UK albums into their career, The Wombats continue to pull in a bigger audience than ever before. Following the viral success of Oliver Nelson's remix of their 2015 hit 'Greek Tragedy' on TikTok, the remix has accumulated over 30 million additional streams, propelling the original to 120 million streams and sending it Gold in the US.
Recording remotely over the past year from their respective homes, the band have been working hard to create some of the most forward-thinking music of their career.
With a summer ahead that includes appearances at Reading & Leeds Festival and Neighbourhood Weekender as well as their London show set for 2022, fans new and old can look forward to plenty more to come from one of Britain's favourite bands!
Image Credit: PRESS