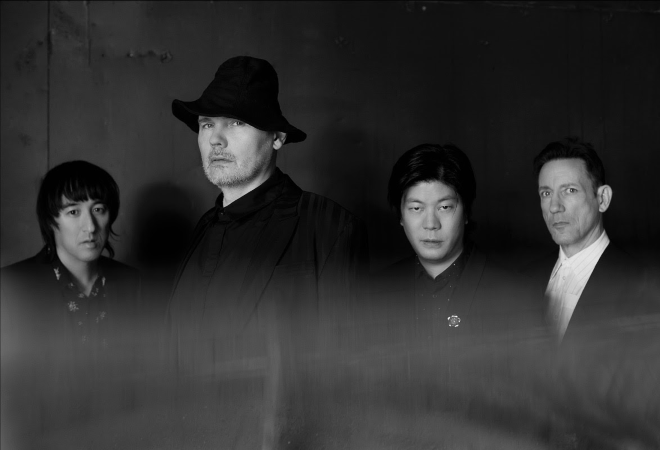 The Smashing Pumpkins have shared two more new tracks from their highly anticipated double album 'CYR', due out on 27 November 2020.
Produced by Billy Corgan, 'Confessions of a Dopamine Addict' and 'Wrath' follow the recently released 'Cyr' and 'The Colour Of Love'. The tracks feature founding members Billy Corgan, James Iha, Jimmy Chamberlin and long-time guitarist Jeff Schroeder.
LISTEN TO ALL SONGS HERE:
The new offerings come with episode's 1 and 2 of the band's new 5-part animated series 'In Ashes,' created by Billy Corgan and animated by Deep Sky.
CHECK OUT BOTH EPISODES ON THEIR YOUTUBE CHANNEL HERE.
The Grammy Award-winning alternative rockers also previously revealed a special performance video of 'Cyr,' directed by Linda Strawberry and shot remotely during lockdown in Chicago and Los Angeles.
WATCH IT HERE:
The new songs follow the band's 2018 Rick Rubin-produced full-length 'Shiny and Oh So Bright, Vol. 1 / LP: No Past. No Future. No Sun'.
The Smashing Pumpkins 'CYR' Full Album Tracklisting:
The Colour of Love
Confessions of a Dopamine Addict
Cyr
Dulcet in E
Wrath
Ramona
Anno Satana
Birch Grove
Wyttch
Starrcraft
Purple Blood
Save Your Tears
Telegenix
Black Forest, Black Hills
Adrennalynne
Haunted
The Hidden Sun
Schaudenfreud
Tyger, Tyger
Minerva
FIVE FAST BAND FACTS:
The Smashing Pumpkins formed in Chicago, IL in 1988.

Their debut album 'Gish' was released in 1991.

The alternative rockers found mainstream success with 1993's 4x multi-platinum 'Siamese Dream' and 1995's 10x multi-platinum 'Mellon Collie and the Infinite Sadness'.

They have released seven additional studio albums; 'Adore', 'Machina/The Machines of God', 'Machina II/The Friends' and 'Enemies of Modern Music', 'Zeitgeist', 'Oceania', 'Monuments to an Elegy' and 'Shiny and Oh So Bright, Vol 1 / LP: No Past, No Future, No Sun'.

They are a multiple Grammy, MTV VMA and American Music Award winning band.