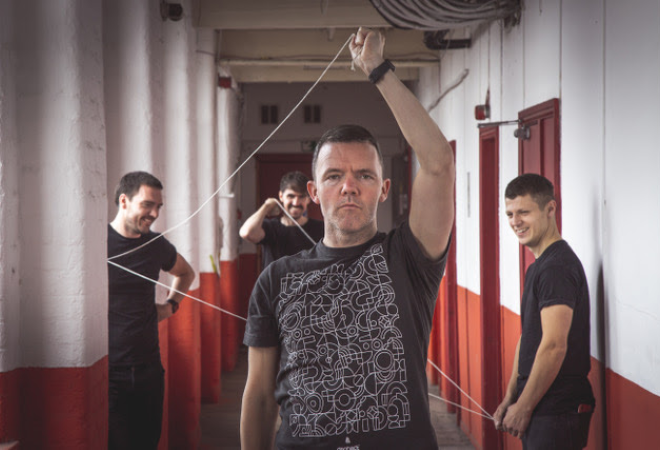 The Slow Readers Club have dropped the new track 'Two Minutes Hate', taken from their forthcoming fifth studio album '91 Days In Isolation', due out on 23 October 2020.
Lead singer Aaron Starkie discussed the song saying, "Lyrically it's a song about the outpouring of hatred and vitriol on social media and me asking myself if I should engage with it. It is an acknowledgement that there is something in the human condition that craves an outlet to unleash our rage and social media provides that. 'Two Minutes Hate' (a reference to the daily ritual in George Orwell's 1984 where party members gather to scream at images of enemies of the state)."
LISTEN TO IT HERE:
'91 Days In Isolation' will be the official follow-up to their Top 10 release 'The Joy Of The Return', which dropped in March this year. The forthcoming record was written during the UK lockdown and created by the band who all worked remotely from their own homes.
Starkie commented on the creation process saying, "This collection of songs was written remotely during the UK Covid 19 lockdown. With each band member sharing ideas over the internet, the songs were pieced together at home. When the lockdown lifted we took the songs to Edwin Street Recording Studios in Bury and recorded this album with our producer Phil Bulleyment. We are proud to present 91 Days in Isolation".
Throughout lockdown the Manchester rockers constantly found creative ways to stay connected to their fans. From exclusive lockdown videos, fan-selected cover songs, 'watch together' sessions of previous shows, fan listening parties of previous albums and a special acoustic session at an empty Manchester Arena in celebration of the venue's 25th anniversary celebrations.
The band were also one of the first to announce a new album during a ticketed live-stream concert event from The Met in Bury, which featured a selection of brand new songs performed live for the very first time.
'91 Days In Isolation' will be self-released via the band's very own label SRC Records.
The Slow Readers Club 2021 Rescheduled Tour Dates:
Sheffield Foundry, 17 March
Edinburgh The Liquid Room, 18
Gateshead The Sage 2, 19
Leeds Beckett University, 20
Warrington Parr Hall, 21
London Electric Ballroom, 23
Nottingham Rock City, 24
Cardiff The Globe, 25
Bristol Thekla, 26
Birmingham O2 Academy 2, 27
Portsmouth Wedgewood Rooms, 29
Brighton Chalk, 30
Cambridge Junction, 31
Blackburn King Georges Hall, 01 April
Liverpool O2 Academy, 02
Tickets on sale now from Gigantic Ticketmaster Ticketweb See Tickets (Original tickets remain valid)