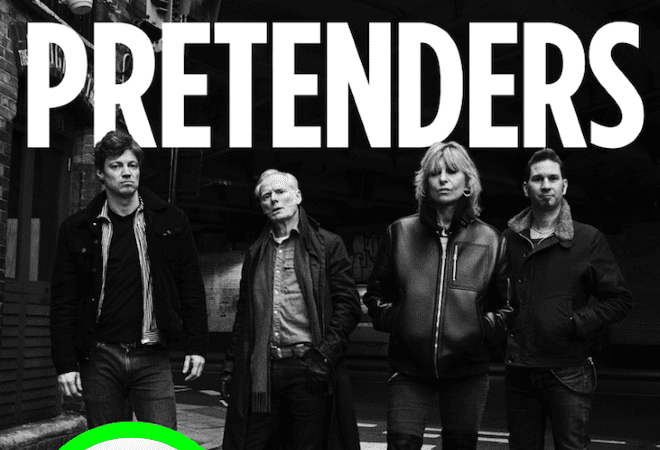 The Pretenders have revealed brand new track 'Turf Accountant Daddy' alongside an accompanying music video.
The song will feature on their forthcoming album 'Hate For Sale', recorded with the group's now long-standing touring line-up and due out for release on 17 July 2020.
The visuals for 'Turf Accountant Daddy' were created during lockdown and produced and directed by the band's long-time collaborator John Minton.
WATCH THE VIDEO HERE:
The track is the follow-up to recent single 'The Buzz', which explores the wider issues of drug addiction. Chrissie commented on the tune saying, "I think we all know that love affairs can take on the characteristics of drug addiction. It's about that. Not mine of course – I'm never obsessive never obsessive never obsessive."
LISTEN TO IT HERE:
Produced by Stephen Street and written collaboratively by frontwoman Chrissie Hynde and guitarist James Walbourne, 'Hate For Sale' is the eleventh studio album to come from the band.
Speaking about writing with James for the first time Chrissie said, "I wanted to write with him since day one. James is especially sought after and has recorded with Jerry Lee Lewis, Dave Gahan, and The Rails, to name but a few. We always planned on writing while on the road, but as anyone in a band will tell you, being on tour is a procrastinator's dream come true".
The band's most recent album 'Alone' dropped back in 2016, following 2008s 'Break Up The Concrete'. Last year they joined Fleetwood Mac as support on their UK stadium tour, including two massive shows at London's Wembley Stadium.
'Hate For Sale' Full Album Tracklisting:
Hate For Sale
The Buzz
Lightning Man
Turf Accountant Daddy
You Can't Hurt a Fool
I Didn't Know When To Stop
Maybe Love Is In NYC
Junkie Walk
Didn't Want To Be This Lonely
Crying in Public