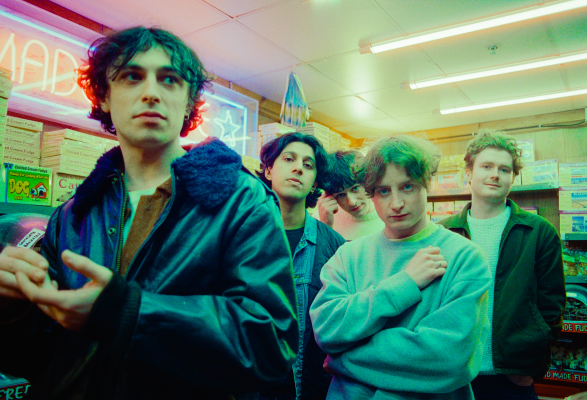 The Goa Express have dropped energetic new single 'Good Luck Charm', out now via Communion.
The band commented, "Sometimes, you end up feeling down on your luck and then all a sudden you make the call to get the hell out of somewhere…And, out of nowhere, you meet someone and you end up getting lucky again."
WATCH THE 'GOOD LUCK CHARM' MUSIC VIDEO HERE:
The five-piece, led by Clarke alongside his brother Joe and best friends Joey, Naham and Sam, met as teenagers in Burnley. Growing up in the rural shadow of England's industrial north, music was a means of escape and a vessel for friendship, with their shared adolescent experiences shaping their collective attitudes and behaviours and, ultimately, the sound and spirit of their band.
Last year, The Goa Express played over a hundred UK/EU gigs, including stops at Glastonbury, Latitude and The Great Escape.
Following their Glastonbury debut, the band's recent single 'Portrait' was put together in the Welsh village of Raglan, with the boys returning to the studio six months later to record 'Good Luck Charm' early in 2023. Both new tracks have seen Ocean Colour Scene's Damon Minchella pairing with Tom Manning on production duties.
CHECK OUT THE 'PORTRAIT' MUSIC VIDEO HERE:
Furthermore, The Goa Express can be seen performing to thousands at Burnley's Turf Moor stadium in Bank of Dave, Netflix UK's most watched film on release week.
The Goa Express 2023 Live Dates:
Liverpool Sound City Festival, 28 April
Todmorden The Golden Lion, 05 May
Brighton The Great Escape, 12
Sheffield Get Together, 20
Manchester YES Pink Room, 26
Warrington Neighbourhood Weekender, 27
Port Talbot In It Together Festival, 28
London The Lower Third, 31
Tickets on sale now from Gigantic Ticketmaster Ticketweb See Tickets
Image Credit: Charlie Harris / PRESS