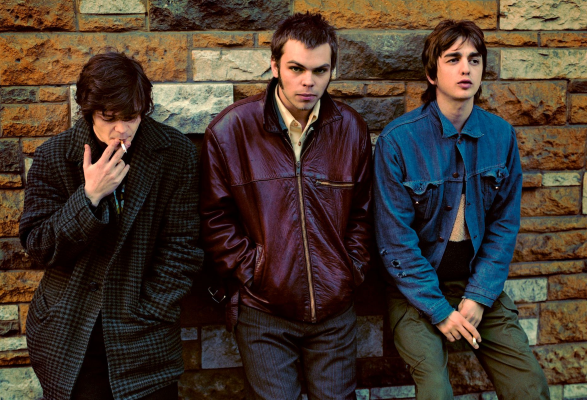 Supergrass have announced a remastered and expanded version of their classic second album 'In It For The Money', due out on 27 August 2021.
Originally released on 21 April 1997 to widespread acclaim, it reached No.2 in the Album Charts, achieved platinum status in the UK and sold over a million copies worldwide. The full-length features hit singles 'Going Out', 'Richard III', 'Sun Hits The Sky' and 'Late In The Day'.
LISTEN TO THE PREVIOUSLY UNRELEASED VERSION OF 'IT'S NOT ME' HERE:
After first forming in Oxford UK in 1993, the BRIT, Q, NME and Ivor Novello-winning outfit went on to release their Mercury-nominated No.1 debut album 'I Should Coco' in 1995. Their fourth single 'Alright' quickly became a huge hit and catapulted the band to global success.
They went on to release another five acclaimed studio albums including 1997s 'In It For The Money', 1999s 'Supergrass', 2002s 'Life On Other Planets', 2004s 'Supergrass Is 10', 2005s 'Road To Rouen' and 2008s 'Diamond Hoo Ha'.
After splitting in 2010, the Britpop veterans marked their 2019 reunion with a career spanning Deluxe Boxset 'The Strange Ones 1994-2008' as well as embarked on a sold out world tour.
The band consists of Gaz Coombes, Mick Quinn, Danny Goffey and Rob Coombes.
Supergrass 2021 Live Dates:
Latitude Festival, 24 July
Tramlines Festival, 25
South Facing 2021, 20
Camper Calling, 28 Aug
Victorious Festival, 29
Isle of Wight Festival, 19 Sept
Glasgow O2 Academy, 19 Dec
Tickets on sale now from Ticketmaster Ticketweb See Tickets
Supergrass 'In It For The Money' Remastered Expanded Edition Full Tracklisting:
*Previously Unreleased
3CD & SD DIGITAL DELUXE
CD1: In It For The Money – 2021 Remaster
In It For The Money (2021 Remaster)
Richard III (2021 Remaster)
Tonight (2021 Remaster)
Late In The Day (2021 Remaster)
G-Song (2021 Remaster)
Sun Hits The Sky (2021 Remaster)
Going Out (2021 Remaster)
It's Not Me (2021 Remaster)
Cheapskate (2021 Remaster)
You Can See Me (2021 Remaster)
Hollow Little Reign (2021 Remaster)
Sometimes I Make You Sad (2021Remaster)
CD2: Research & Development – Studio Extras & B-Sides
Susan (AKA Going Out)*
Melanie Davis
Can't Dig It (AKA G-Song)*
Late In The Day (Demo)*
Get Away (AKA Richard III)*
Charles II *
Sun Hits the Sky (Monitor Mix)*
It's Not Me (Original)*
Silver Lining*
Cheapskate (Monitor Mix)*
In It for the Money (Monitor Mix)*
Hollow Little Reign (Güiro Mix)*
Tonight (Monitor Mix)*
You Can See Me (Demo)*
Sometime We're Really Sad (Edit)*
Sometimes I Make You Sad (Guide Vox)*
Nothing More's Gonna Get in My Way
We Still Need More (Than Anyone Can Give)
Don't Be Cruel
20ft Halo
The Animal
CD3: Product Placement – Live Recordings
Going Out (Opera House, Toronto, 11 Sep 95)*
Melanie Davis (Lowlands Festival, Netherlands, 25 Aug 96)*
G-Song (Rehearsal cassette recording, 18 Jun 95)*
Hollow Little Reign (O2 Academy Islington, London, 01 Jun 2004)*
In It for the Money (Rock City, Nottingham, 18 Jan 98)*
Cheapskate (Rock City, Nottingham, 18 Jan 98)*
Mansize Rooster (Rock City, Nottingham, 18 Jan 98)*
Richard III (Rock City, Nottingham, 18 Jan 98)*
You Can See Me (Rock City, Nottingham, 18 Jan 98)*
Late in the Day (Rock City, Nottingham, 18 Jan 98)*
Alright (Rock City, Nottingham, 18 Jan 98)*
Just Dropped In (To See What Condition My Condition Was In) (Rock City, Nottingham, 18 Jan 98)*
Lose It (Rock City, Nottingham, 18 Jan 98)*
Sun Hits the Sky (Rock City, Nottingham, 18 Jan 98)*
Going Out (aborted) (Rock City, Nottingham, 18 Jan 98)*
Caught By the Fuzz (Rock City, Nottingham, 18 Jan 98)*
Going Out (Rock City, Nottingham, 18 Jan 98)*
Strange Ones (Rock City, Nottingham, 18 Jan 98)*
Lenny (Rock City, Nottingham, 18 Jan 98)*
Sometimes I Make You Sad (Paradiso, Amsterdam, 08 Oct 97)*
1LP BLACK / TURQUOISE / HD DIGITAL
A1. In It For The Money (2021 Remaster)
A2. Richard III (2021 Remaster)
A3. Tonight (2021 Remaster)
A4. Late In The Day (2021 Remaster)
A5. G-Song (2021 Remaster)
A6. Sun Hits The Sky (2021 Remaster)
B1. Going Out (2021 Remaster)
B2. It's Not Me (2021 Remaster)
B3. Cheapskate (2021 Remaster)
B4. You Can See Me (2021 Remaster)
B5. Hollow Little Reign (2021 Remaster)
B6. Sometimes I Make You Sad (2021 Remaster)
12" 140g WHITE VINYL SINGLE
A1. 'Sun Hits The Sky (Bentley Rhythm Ace Remix)'
B1. 'The Animal'
Image Credit: Kevin Westenberg / PRESS