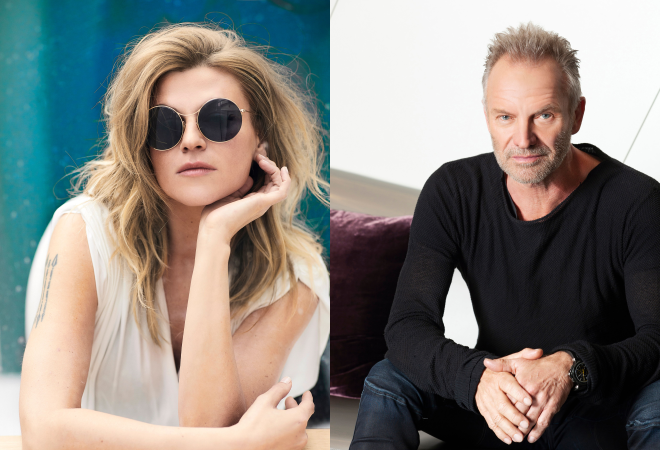 Melody Gardot and Sting have collaborated on new duet 'Little Something'.
The single will appear on world-renowned singer-songwriter Melody's much-awaited forthcoming album 'Sunset In The Blue', due out on 23 October 2020.
'Little Something' was mixed by 4x Grammy-Award winner Robert Orton and created by Gardot alongside Sting, guitarist Dominic Miller and French producer Jen Jis.
17-time Grammy Award-winning music icon Sting commented, "This new song – co-written by my dear friend Dominic Miller – has a simple and infectious joy, and it was so much fun to trade vocals with the exquisite Melody Gardot. I hope you can hear the smile in our voices."
Melody added, "During these complicated times, collaboration is the only saving grace for us musicians. I was so surprised when Jen Jis came to me with this track, and then to find out it was a duet with Sting! While I recognise it is a big switch from my usual musical genre, I loved having the chance to challenge myself with something new… that's what music is all about."
LISTEN TO THE TRACK HERE:
Confined to her home in Paris in May of 2020, Melody Gardot made headlines when she put out a social media casting call to orchestral musicians unable to work during the coronavirus lockdown restrictions. Together they created a virtual orchestra for her first single release 'From Paris With Love'. The singer made headlines once again in June when she recorded the first COVID safe studio session at London's historic Abbey Road Studios with the Royal Philharmonic Orchestra.
'Sunset In The Blue' sees the American jazz artist unite with the multi-Grammy Award-winning production team of her platinum-selling album 'My One and Only Thrill', including producer Larry Klein, arranger and composer Vince Mendoza and legendary engineer Al Schmitt.
The result is a stunning new body of work and exciting collaborations that have come together despite the challenging times.