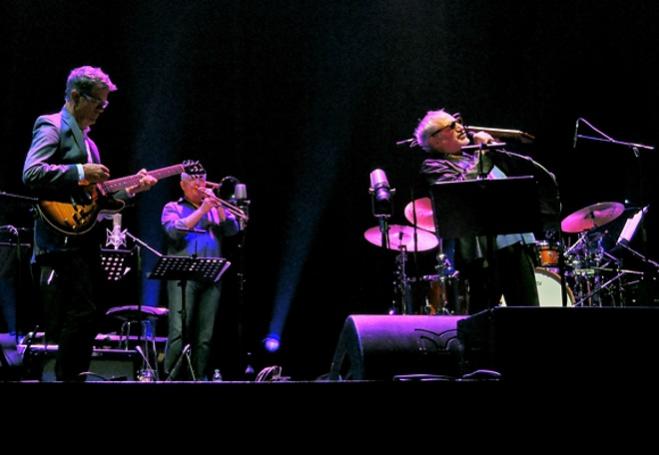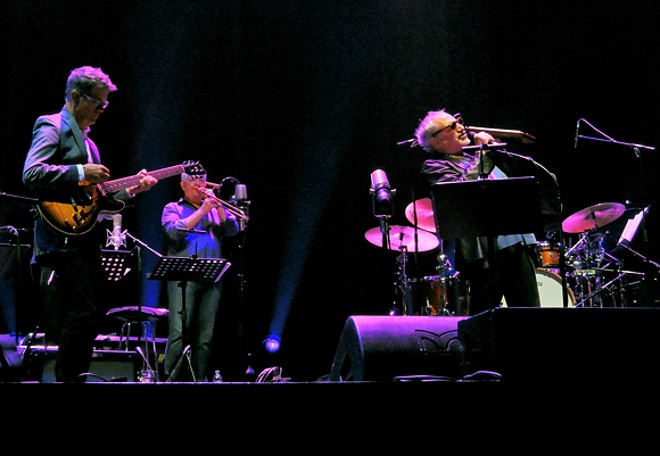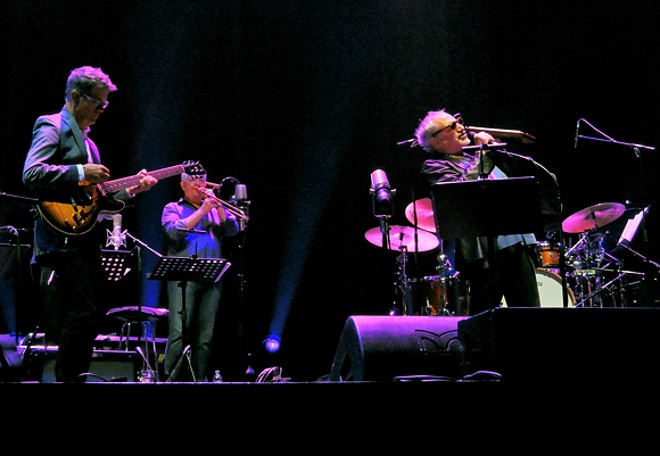 (Note: Photo from London, 2017)
The last time I saw Steely Dan perform – at the O2 during the Blues Fest season in 2017 – I confess to coming away rather disappointed, feeling that The Doobie Brothers' supporting set was more entertaining. Since then I've put it down to a combination of things – firstly, Walter Becker had passed away only the previous month and his missing presence was still hard to take. Second, I was a little disappointed in the setlist missing some of my favourite tracks and finally, The Doobies were terrific that night.
But, this is Steely Dan, a band you shouldn't pass up the chance of seeing, so I caught the last of a short run of UK dates at Wembley Arena on Monday. As it turned out, the band, led by the wry, enigmatic Donald Fagen were on top form. Their reputation as studio perfectionists remains mirrored in their live performances – the musicians and singers on stage are among the best of the best, and deliver flawless performances.
As the band came out for the opening number an empty microphone stand paid silent tribute to the late Becker. Fagen joined the band for a boisterous opening of 'Bodhisattva', the singer hunched behind his keyboard where he would remain for much of the evening. Indeed, for much of the show his head and shoulders were all that could be seen, and although he was his usual wisecracking self, he cussedly refused to pander to the crowd by performing songs like 'Do It Again', 'Rikki Don't Lose That Number' and 'Deacon Blues'.
Despite this reservation the set list had a number of surprises as well as something from each of their first seven albums so it was a good career retrospective. 'Hey Nineteen' was blissfully seductive and 'Black Friday' with Jon Herington's controlled yet manic guitar solo shone early in the show. An undoubted highspot was Stevie Winwood (the evening's support act) joining the band and adding vocals and Hammond organ to 'Pretzel Logic'. It was both a genuine surprise and an unforgettable experience, and it wasn't to be the last of the evening.
The 'Aja' album was well represented with 'Black Cow', 'Peg' and 'Josie' all included, and the title track was the usual tour de force for drummer Keith Carlock and saw Fagen move from his keyboard to stage front as he played melodica.
The three song section of 'Time Out Of Mind,' Kid Charlemagne' and 'Dirty Work' was simply outstanding – vintage Steely Dan tracks that had the audience in raptures. The main set closed with a riotous take on 'My Old School'.
Returning for the encore, Fagen spoke about the old days when they recorded their first album and how "The band had five or six guys… seven or eight guys… nine or ten guys… and how they had a friend from New York who did sessions and that he dropped by to play lead on this tune…" and introduced Elliott Randall. To hear Randall personally reel off his famous solo, note perfect, was simply transcendent. It was a true "I was there" moment.
It rounded off a wonderful evening, the so-so O2 performance from 2017 consigned to history and it was a gig as hugely memorable as the time I saw them, with Walter Becker, play at New York's Beacon Theatre a few years ago. There's life in this old band yet – long may Fagen and band continue to enthral.
Review & Photo by David Dunn