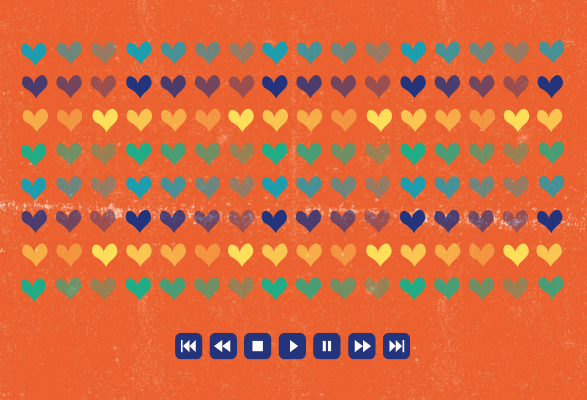 Valentine's Day is just days away and there's not much time left to find the perfect gift. But what if instead of going to a store, you put your feelings into words and onto paper…wouldn't that mean so much more?
Yes, chocolates and flowers are great to give and receive, but nothing can warm someone's heart quite like a song.
Here are some romantic lyrics to share with your significant other this Valentine's Day that will make you sound as smooth as the songs they come from.
Adele – Make You Feel My Love
"I could make you happy, make your dreams come true
Nothing that I wouldn't do
Go to the ends of the Earth for you
To make you feel my love"
Bruno Mars – Just the Way You Are
"When I see your face
There's not a thing that I would change
'Cause you're amazing
Just the way you are"
Beyoncé – Halo'
"Hit me like a ray of sun
Burning through my darkest night
You're the only one that I want
Think I'm addicted to your light"
John Legend – All of Me
"'Cause all of me
Loves all of you
Love your curves and all your edges
All your perfect imperfections"
Ed Sheeran – Perfect
"Darling, just hold my hand
Be my girl, I'll be your man
I see my future in your eyes"
Michael Bublé – Close Your Eyes'
"Here's to you
The one that always pulls us through
Always do what you gotta do
You're one of a kind
Thank God you're mine"
Goo Goo Dolls – Iris
"And I'd give up forever to touch you
'Cause I know that you feel me somehow
You're the closest to heaven that I'll ever be
And I don't want to go home right now"
Bryan Adams – Everything I Do (I Do it For You)
"There's no love
Like your love
And no other
Could give more love
There's nowhere
Unless you're there
All the time
All the way"
Shania Twain – Still the One
"You're still the one I run to
The one that I belong to
You're still the one I want for life"
Elton John – Your Song
"And you can tell everybody this is your song
It may be quite simple, but now that it's done
I hope you don't mind, I hope you don't mind that I put down in words
How wonderful life is while you're in the world"
Rod Stewart – Have I Told You Lately
"Have I told you lately that I love you
Have I told you there's no one else above you
You fill my heart with gladness
Take away all my sadness
Ease my troubles, that's what you do"
Elvis Presley – Can't Help Falling In Love
"Take my hand
Take my whole life too
For I can't help falling in love with you"
Etta James – At Last
"At last
My love has come along
My lonely days are over
And life is like a song"
Nat King Cole – Unforgettable
"Like a song of love that clings to me
How the thought of you does things to me
Never before
Has someone been more
Unforgettable"
Happy Valentine's Day ❤️