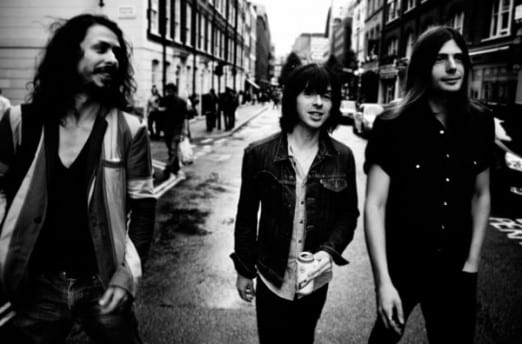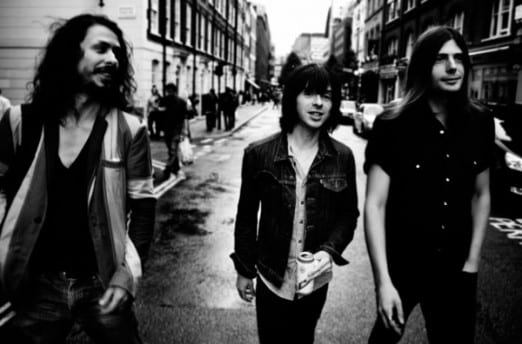 This was a proper winter warmer of a Sunday night gig. A throwback to the days of the power trio perspiring over electric R&B in the backroom of pubs, the only thing missing is the smell and hazy air of cigarette smoke. It's a no nonsense, heads down and go for it kind of a night. A purist night for the out-and-out music geek that rides the waves of Electric Blues, Surf Rock, Garage and Psych all played by a unit not just tightened up by the discipline of nightly playing at the end of this latest tour but also fifteen years of off and on musical growth.
Little Barrie are a three piece built around the songwriting of lead guitarist / vocalist Barrie Cadogan, the deep groove bass of Lewis Wharton and the thunderstick drum pounding of Virgil Howe. Howe in addition to a top drawer rock star name and suitably hirsute appearance, has genuine classic rock blood pumping through his veins, being the son of Yes guitarist Steve Howe. Together they're the classic unit built around the Jimi Hendrix Experience template. The big difference is that all three of them are the focal point; each one at varying times appears to be playing the lead instrument part. At times the bass is so high and up front it will fry your brain, then other intervals are filled with a Virgilant drum solo of head pounding velocity, although that's not to imply indulgence in any way. The music is always king and everything is delivered in the moment and with urgency.
Barrie Cadogan is a guitar hero very much moulded in the non-macho, Johnny Marr vein. As such he can appear a bit detached from front man duties, even though the singing and guitar playing naturally pull your eyes towards him. His demeanour is humble and modest, even the talking he does tends to be directed at the crew after he breaks a guitar string. In fact it's the charismatic Virgil who seems more at home with the audience interaction. Barrie has slotted like a token into the live Primal Scream line up in recent years (and lead guitar in that band is hardly a gig for any casual minded muso) and it's plain to see that locking into a living breathing musical unit is where his heart is. There doesn't seem to be many effects, fuzztones and riffs he can't execute on the guitar and he does indeed elevate off the ground frequently tonight. But it's never in the name of showboating, even when he starts propelling his guitar like he's trying to steer a boat, this man is in the zone. The key to that working mojo is being turned right before our eyes.
Recently Little Barrie's profile has been raised by his music featuring as the main theme tune to 'Breaking Bad' spin off TV series 'Better Call Saul'. It's a development that's pushing this rather reluctant front man further forward into the spotlight. Tonight any attempts at text book gig rituals are scuppered near the end when he has to remain onstage before launching into an encore. "There's nowhere for me to go" he mitigates ahead of a freak out of a finale that really does leave everyone hungry for more. If Barrie Cadogan can maintain this combination of players as a living, breathing entity, then it's not unreasonable to say the possibilities for him really are endless. But if that big leap out of the shadows is never fully realised, the music world will forever remain a better place wherever he parks up to plug his guitar in and let the music do the talking.
Review by: Danny Neill