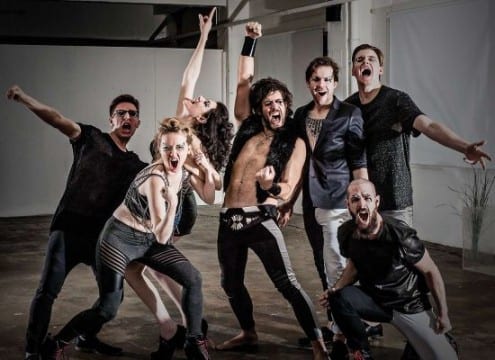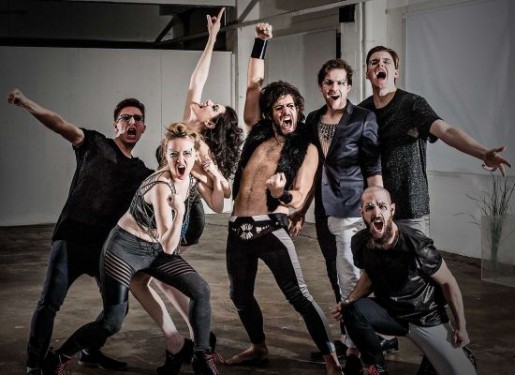 Words like 'exuberant', 'grandiose', 'flamboyant', 'theatrical rock', 'madness and magic', 'insane live shows', 'hair-raisingly entertaining live shows' and 'theatre pop', send waves of nausea through my body. These words have been lifted from another review of Felix Hagan and the Family's new EP "Kiss the Misfits" and are clearly meant to sound complimentary, however, they only serve to clarify why I have grave misgivings about this band. Everything I have seen and heard of them drips with an overwhelming desire to appear like the life and soul of the party. They remind me of Robbie Williams strutting though the 'Let Me Entertain You' video, like a demented cockerel. All puffed out chest and cocaine energy; a cock-eyed Kiss tribute, via Mick Jagger and Freddie Mercury. Taking from pop's rich history but adding nothing to it.
Felix Hagan does not have the ugly arrogance of Williams, but his persona treads a fine line between Butlins' Redcoat and a CBeebies or Milkshake TV presenter. It is the raised eyebrow, the knowing wink… and the seemingly desperate need to entertain at all costs. Fun! You will have fun!
I am not a fan of stage musical/pop crossovers due primarily to them feeling like pure performance, not a genuine, unaffected, personal voice. There is too much posturing, too many big gestures and not enough soul. Cheshire cat grins and wide Disney eyes, with cor blimey melodies and music hall deliveries soon become wearing rather than endearing and the overriding vibe becomes overly familiar and breeds contempt, leaving you full to the brim on a candy-flossed up mixture of vaudeville and variety.
Other bands have tried and succeeded with this style, notably My Life Story and The Divine Comedy. Others are masterful at it and remain relatively unknown: John Cameron Mitchell's Hedwig and the Angry Inch. These bands trod a fine line between cool and kitsch – between a grin and a grimace, and they all had much better songs. Having listening to the latest EP 'Kiss The Misfits' and their previous releases, nothing stands out as refreshingly original or blindingly beautiful. I am sure their live shows are a blast, and I would love to witness their stage performance, as I feel this is where their music makes the most sense. Until then, leave me to put on some make-up… turn on the tape deck… and put the wig back on my head with Hedwig.
Review by: Alan Neilson.
Take a look at the video for new single 'Some Kind Of Hero', it was animated by Aardman employee (famous for Wallace & Gromit) Rob Millard, who created the touching Knight's tale, which highlights Felix's sharp lyricism.
'Some Kind Of Hero' touches on mental health and sends a message to people who have been down in the depths of mental darkness, and the people who will stop at nothing to bring them back up.
The single is the latest to be taken from the Kiss The Misfits EP…