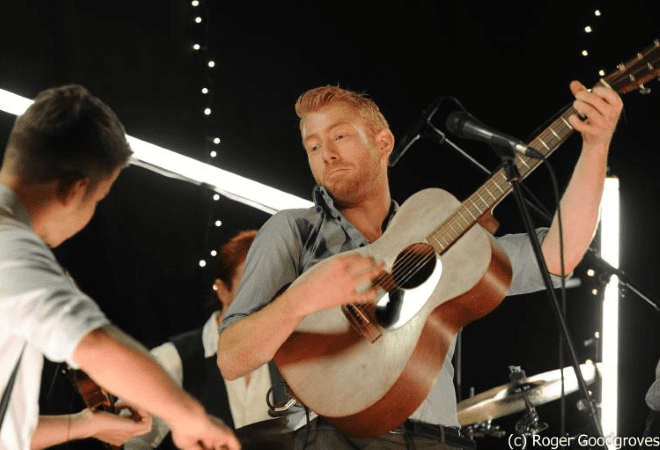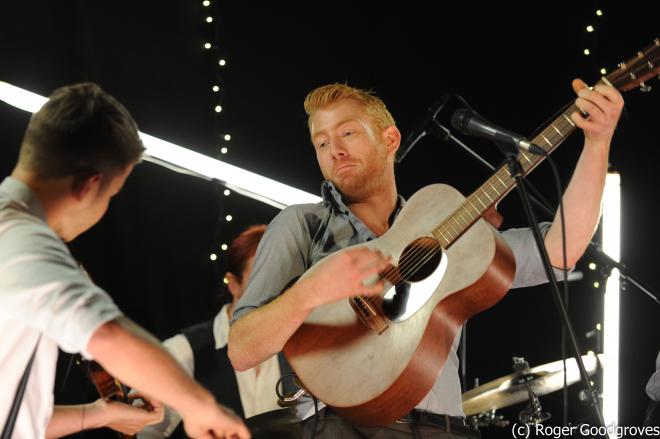 "We're probably not your usual band for the Cambridge Folk Festival" says Louisa Roach, singer and leader of She Drew The Gun; it is a fair comment. Their poetic strain of Psychedelic Indie lands on the second stage with Louisa dressed like a seventies space cadet and there isn't a hint of anything remotely traditional to be found (unless you're only looking back as far as 1967). Still, she's on the money in concluding "but it's all about storytelling and so that's OK here isn't it?"
This major annual event, now in its 52nd year, has evolved over the last two decades into a diverse gala that embraces so much more than simply traditional folk. That's wholly appropriate for the times we live in, where the easy availability of so much recorded music has rendered mono-genre listening almost obsolete. That question of 'what constitutes folk?' is fairly redundant too. Take a look at the stronger backbone of this festival and you'll see the answers all around you. It's about a love of music; it's about community; it's about mutual musical memories as well as participation, sharing and discovering. Indeed in the 21st century, where the listening boundaries have all crumbled, we are all living in a folk music world.
None of this should mean the folk festival loses its love of the acoustic guitar or becomes something other than what it really is; a quality potpourri of music from a genuinely eclectic variety of artists both new and old. Amongst some, there was a feeling stirring on site that 2017 could be Cambridge's least exciting line-up for many a year, warning signs that the organisers run the risk of losing focus and the momentum they've created in modern times. That said I had no major trouble in locating some musical thrills over the weekend, I just had to dig around the fringes to find them.
I often found myself seeking out some spit and sawdust, authentic folk action in the club tent; it's peculiar how the grass roots element of the scene is a side attraction at its own event tucked away at the back of the site. You could do a lot worse than pitch out here all weekend, drinking from a bar that serves you faster and with a quick fire procession of songwriters, instrumentalists, traditionalists and poets you're never too far away from an act that will light you up. The battle against the amplification bleeding over from the main stage can be a challenge on some of the quieter players but of those I did catch, the lush musicality of Boxwood Chessmen made me think of early Fairport and The Band while the Sunday afternoon dextrous guitar picking of Brian Cleary and Hugh Boyde was a perfect combination of the right music in the right setting.
Over on the main stage, Lisa Hannigan was frighteningly good; what a voice and a fine example of an artist who merely uses folk as her starting point as her imagination continues to bloom. By contrast, Ward Thomas followed sounding like the kind of tight, polished folk pop you'd arrive at if the most rootsy thing you'd ever listened to was Ronan Keating. That's why it's important to scout around, one of the most satisfying activities at any festival. On stage 2 Bokante were an intoxicating Friday night closing act, all Jazz fusion guitars and Afro Beat grooves, while early in the day on Saturday the main arena was funked up by the Prince-like stage craft of Fantastic Negrito. In the torrentially wet evening once more it fell to the second arena to lift the spirits thanks to the swinging feel good sounds and uninhibited showmanship of CC Smugglers (pictured above). These are the kind of wild and exciting surprises this weekend has thrived on in the past, it was always impossible to come away from here without a bundle of mouth watering new discoveries.
This year organisers have introduced the role of guest curator, albeit one who is only responsible for booking a small handful of performers. For me their choice, Jon Boden, is the Sealed Knot of Folk; he's never going to break a sweat with raw emotion but his attention to detail and alignment with the prejudices of the hardcore roots collective will be second to none. In Bellowhead he banged down the doors by sheer weight of numbers and he's pushing for the same feat as a solo act. On Saturday afternoon Boden packed the main stage with brass and strings alongside backing band the Remnant Kings but my carp is that songwriting isn't his strength, he looks like a man pushed too far away from an English traditional comfort zone here. Is casting him as the first guest curator a reductive selection on the part of Cambridge? In my opinion yes it is. The concept could take the festival in really bold and challenging directions in the future so let's hope next years choice of Rhiannon Giddens heralds the dawn of that progression.
However this year doesn't warrant too much nit picking, there are times when the festival really delivers and you become conscious of its unique charm. Shirley Collins is an out-and-out legend of the folk scene and she even played the first ever festival back in 1965. It's nearly 40 years since she played a festival at all and but here we were treated at the main stage sundown slot on Friday night. There were Morris dancers and a small ensemble that sat and accompanied in presenting her music with an air of lecture and recital. Still it was Shirley who held your attention and her connection with these aged songs is real and sincere; the audience remains spellbound as it occurs there's no other sizeable UK festival event offering a legendary performer of this ilk as a main stage headline attraction. For all my talk of evolution, it's vital this event maintains that unique touch. Shirley did have some troubles with her sound though; maybe her sound man had been away from the live scene for decades too and it was his first time using digital equipment!
Sunday afternoon and evening brought a return to Cambridge triumphs of years gone by, both in terms of stature and range. Jon Cleary is a rolling and tumbling piano man whose New Orleans flavour spread some real deal rhythm and blues to savour. Loudon Wainwright III merged his superior composers' chops with typical light banter, most welcome in a set that primarily dealt in the subject of "death and decay". Oysterband were a cut above the rest in terms of traditional sounding folk played with absolute conviction. Then Jake Bugg made everything look so effortless but was no less brilliant for it. Jake's lineage rises out of the Beatles who were clearly a folk music of the last century too and it's their melody and song craft that he puts centre stage. His tool is an acoustic guitar with just an understated keyboardist offering a little extra colour, proving that when the songs are strong you don't really need much else. Here's a man with an axe singing memorable songs that people can relate to about life in the modern world; it's a lesson in back-to-basics that proves sometimes simple folk music is all you need!
Review by: Danny Neill