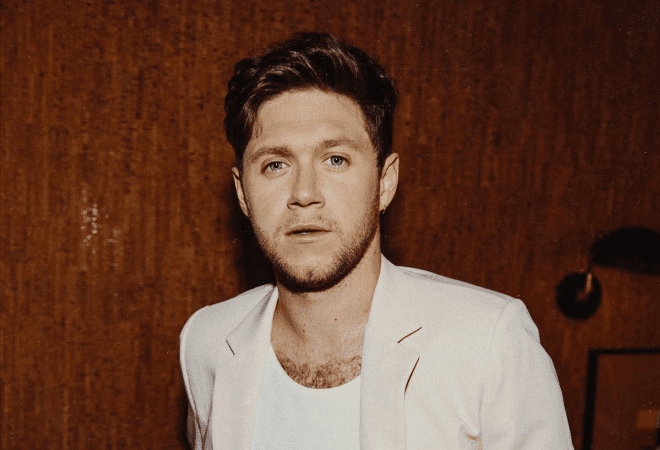 Niall Horan has shared the official music video for single 'Black And White'.
The track is taken from the Irish singer-songwriter's sophomore solo album 'Heartbreak Weather', which was released last month.
The easy-listening Americana influenced number was penned by Horan alongside Julian Bunetta, Teddy Geiger, Alexander Izquierdo and Scott Harris as well as produced by Bunetta. The video features rough footage of the One Direction star in the studio before closing with a live performance of the track.
CHECK IT OUT HERE:
'Heartbreak Weather' entered the UK Official Album Chart at No.1, eclipsing his debut album 'Flicker', which reached the No. 3 spot back in 2017. The album includes recent releases 'No Judgement', 'Put a Little Love On Me' and hit single 'Nice To Meet Ya' – a track that has since clocked-up over 300 million global streams.
Niall joins fellow 1D bandmates Harry Styles and Zayn Malik in having UK chart topping albums, making One Direction the only act besides The Beatles to have three members all top the album chart as a solo artist.
The chart-topper was due to hit the road with his Nice To Meet Ya World Tour this year, however he has cancelled all shows due to the coronavirus pandemic.
Horan did however join a long list of other artists for the Global Citizen's One World: Together at Home special, which was broadcast and live streamed across various networks worldwide.
Seated in his living room, he performed 'Black & White' and 'Slow Hands' on acoustic guitar – WATCH HERE:
Niall's performance will also appear on the special star-studded initiative's official soundtrack, with all proceeds from the album to be donated to Global Citizen to support the COVID-19 Solidarity Response Fund for the World Health Organization, powered by the UN Foundation.
"Thank you so much to anyone out there who works in an essential service, whether it be a doctor, a nurse, a grocery store worker, a teacher. Anyone who works in an essential service, you are doing an unbelievable job at the moment and we thank you so much. You do a great job all the time, but we really need you now and you've stepped up to the plate on another level. Thank you so much." Niall Horan