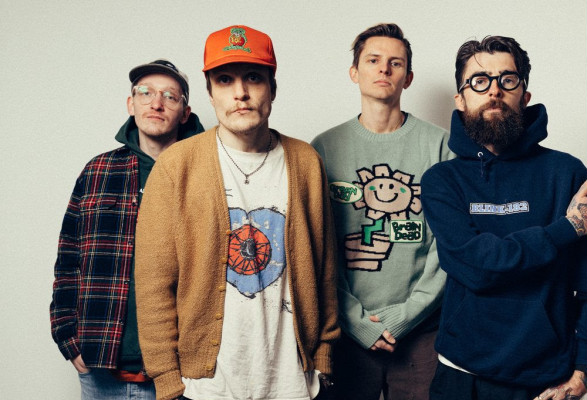 Neck Deep have dropped new single 'Take Me With You' plus announced huge headline show at London's Alexandra Palace next year.
Discussing the track, frontman Ben Barlow shared, "'Take Me With You' is one of those songs where I had the title first…Literally as simple as – we should write a song about aliens called Take Me With You. So conceptually and lyrically it was pretty straightforward. A few of us in the band are big UFO heads, particularly Seb (Barlow, bass), so we had a lot of fun writing this one."
"As always there's a slight social commentary, ultimately I'd rather be (hypothetically) abducted by aliens than stick round on this 'hellish sack of burning trash'. I'd be lying if I said it wasn't a slight nod to Blink 182's 'Aliens Exist' too, but you can blame Tom for infecting my fragile mind at a young age and then going and busting the UFO world wide open! It's a little bit of fun before we come at people with the more meaningful stuff a little later down the line."
WATCH THE 'TAKE ME WITH YOU' MUSIC VIDEO HERE:
The Welsh pop-punk kings have lined-up a huge headline date at Alexandra Palace, London on 28 March 2024.
Tickets on sale Friday (11 August) at 10am from Gigantic Ticketmaster See Tickets
Ben commented, "It's been a long time coming but we're stoked to be finally headlining Ally Pally! We've supported a few times there and always loved the venue. But now – it's our turn, for our biggest ever headline show. I'm expecting it to be the best Neck Deep show ever, and you wouldn't wanna miss that would ya?"
Over the last decade, the band have featured on the charts both at home and internationally. They have sold hundreds of thousands of records and concert tickets, graced magazine covers all over the world as well as toured with some of the biggest names in the business.
Neck Deep have also confirmed a run of Rain In July 10 year anniversary shows for this autumn – full details below:
Leeds Key Club, 15 Oct
Glasgow Slay, 16
Cardiff The Globe, 17
Remaining tickets on sale now from Ticketmaster See Tickets
Photo Credit: Elliot Ingham / PRESS