News
If it's hot in music right now, it's right here. When your favourite band or artist announces a new album or a new tour, you'll find it featured in our Hot News section. GetToTheFront loves bringing you the hottest music news!
Friday 3 April 2020 - 2:30 pm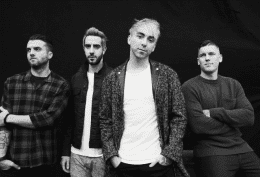 All Time Low have today digitally released their brand new album 'Wake Up,…..
Thursday 2 April 2020 - 3:39 pm
Wednesday 1 April 2020 - 4:24 pm
Monday 30 March 2020 - 2:32 pm
Friday 27 March 2020 - 2:34 pm
Thursday 26 March 2020 - 3:26 pm
Monday 23 March 2020 - 4:04 pm
Thursday 19 March 2020 - 11:05 am
Tuesday 17 March 2020 - 11:42 am
Tuesday 17 March 2020 - 9:58 am