News
If it's hot in music right now, it's right here. When your favourite band or artist announces a new album or a new tour, you'll find it featured in our Hot News section. GetToTheFront loves bringing you the hottest music news!
Wednesday 20 November 2019 - 3:23 pm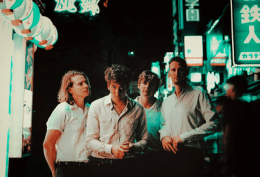 Circa Waves have announced brand new album 'Sad Happy', due out for release…..
Wednesday 20 November 2019 - 8:20 am
Tuesday 19 November 2019 - 8:43 am
Monday 18 November 2019 - 9:08 am
Thursday 14 November 2019 - 11:05 am
Tuesday 12 November 2019 - 2:27 pm
Tuesday 12 November 2019 - 8:20 am
Monday 11 November 2019 - 2:32 pm
Friday 8 November 2019 - 2:16 pm
Friday 8 November 2019 - 8:20 am