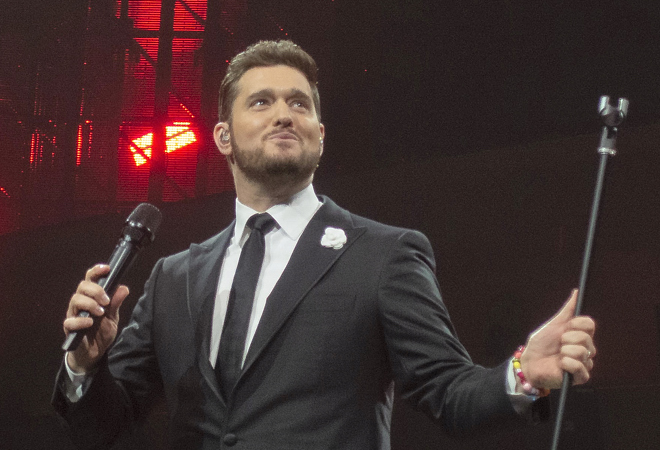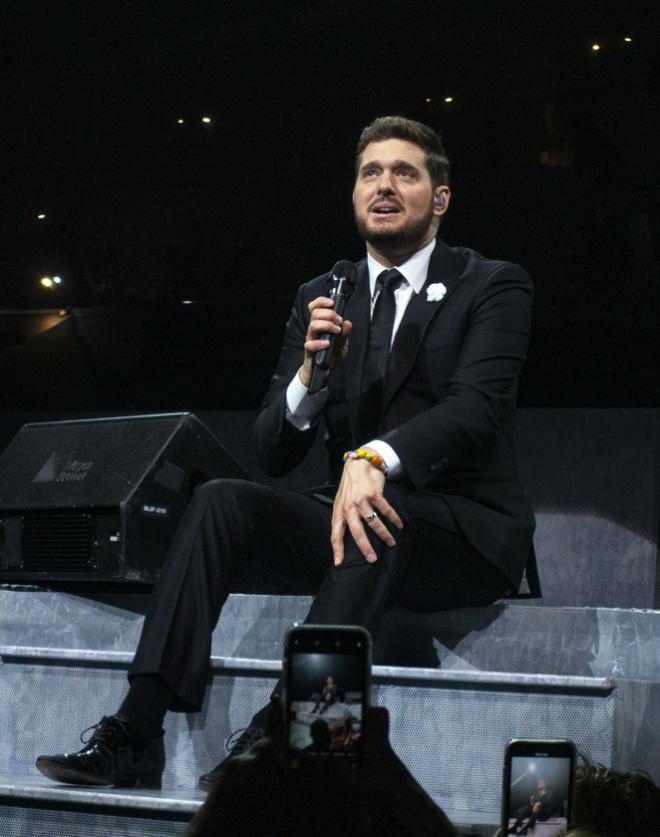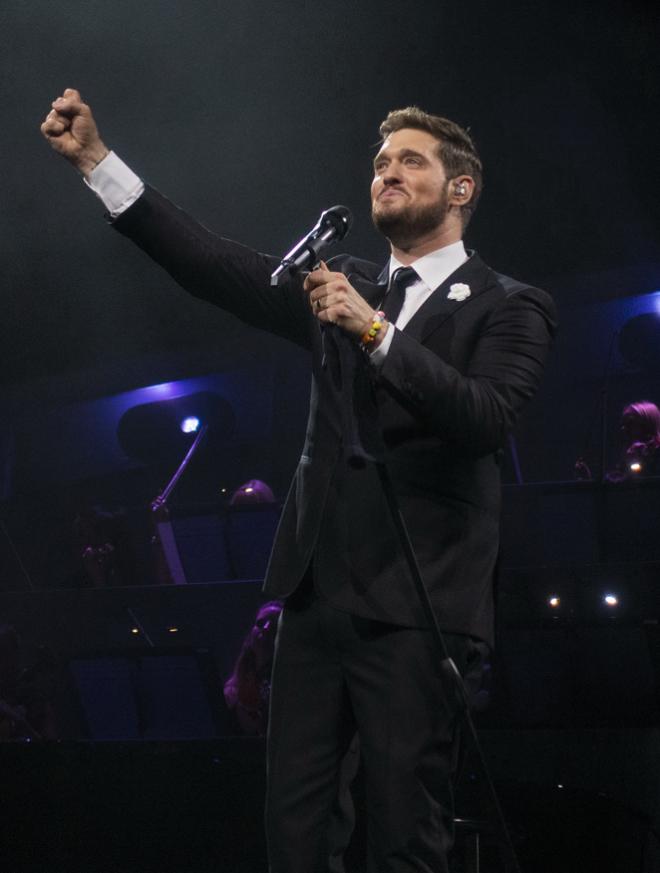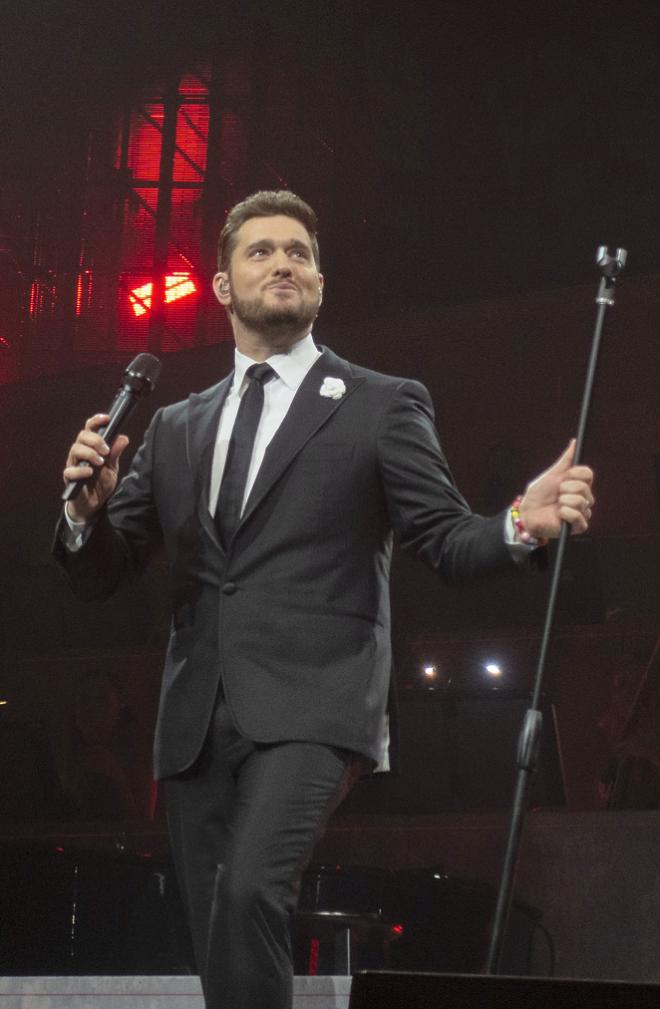 Now the fact is, I've been a bit sniffy about Michael Bublé, the lounge-suited Canadian crooner in the past. The suave demeanour, film star looks and cheeky self-deprecating chatter all rolled into one glossy package just seemed too good to be true. But, since my better half and I saw him perform at a world tour warm up show in Sheffield several years ago, I now know he is superb at what had does and puts on a flawless show.
At Leeds on Monday, the first of two shows in the city, Bublé was effusive about finally returning to the Arena, telling us that he'd been desperate to return and that it was the closest an Arena could get to a small theatre show. He had a good point. The long walkway out into the crowd which is a feature of the bigger flat floor arenas on the tour was limited to the golden circle ticket holders, but in mid set Bublé instead walked up a couple of flights of steps into the heart of the crowd and performed a short set with a few of his musicians. It was a nice touch.
Opening strongly with Feeling Good his voice sounded terrific as he made his way from the back of the thirty-two piece orchestra to the stage where a large circular video screen displayed the stage action to the upper reaches of the arena.
Following up with crowd favourite Haven't Met You Yet, Bublé then chatted for the best part of five minutes before moving onto My Funny Valentine. Thousands of singers have covered this classic tune and there are some wonderful versions, but sadly this arrangement isn't one of them. It missed the mark by being over complicated and unnecessarily loud when for me, the best versions of this sad tune are often just voice and minimal accompaniment.
Pausing to accept a gift of a Spiderman figure for his son Noah from a young fan named Tom, Bublé thanked him, told him that he'd probably keep it himself, and asked his manager to find some goodies for Tom that he'd sign for him. A couple of songs later he duly did, no doubt making the youngster's day. Later, he asked if anyone would like to sing with him, and Katie volunteered, eventually relinquishing her phone before choosing to sing Something Stupid with him, the pair making a fine job with Bublé complimenting her afterwards saying it was a tough song to sing.
Bublé joined the backing vocalists as trumpet player Jumaane Smith was given centre stage to perform a rousing You're Nobody Til Somebody Loves You.
Numbers rushed by – many of them American songbook classics like Sway, Lazy River, When You're Smiling, When I Fall in Love. For Home (dedicated to members and families of the armed forces) Bublé casually sat on the stage leaning against a monitor. He then took his walk up to the middle tiers of the crowd as lanterns descended from the ceiling, for a short set including Buona Sera Signorina, Just a Gigolo/I Ain't Got Nobody and the Chuck Berry number You Never Can Tell.
The main set ended with a magnificent version of Cry Me a River, the orchestration and arrangement sounding powerful, and, together with the screens had a real cinematic feel.
For the encore the orchestra performed Where or When before Bublé returned to the stage for Everything and, wrapping things up in fine style, You Were Always On My Mind.
As expected, it was a consummate performance – Bublé was effortlessly charming, wandering round the walkway slapping hands with his fans and full of smiles and good cheer. It's hard to imagine anyone left feeling disappointed. He returns to the UK later this year at the tail end of some European dates for shows in Aberdeen, Newcastle, Liverpool, Nottingham and London. If you want to treat your partner this Christmas – tickets weny on sale last week. But be quick, they will sell out.
Fan Review & Photos by David Dunn