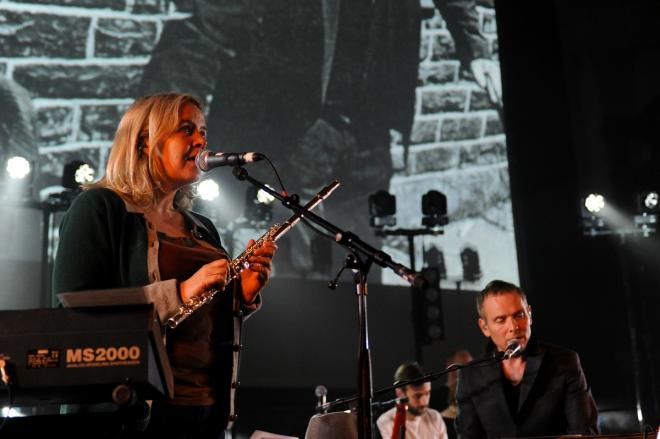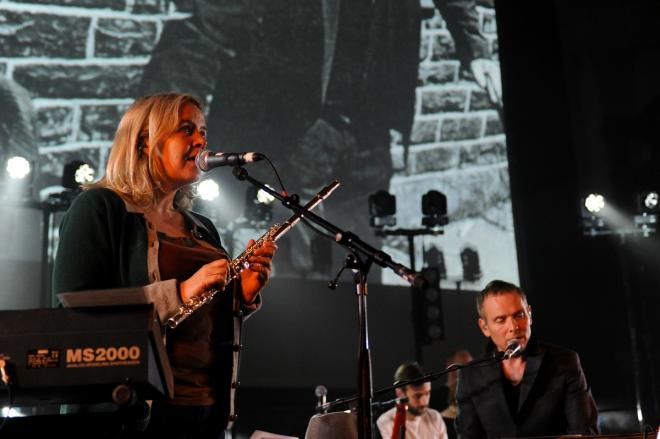 It looks like a sell out crowd here tonight in a venue that is always a thousand times better for music gigs when there are no seats in the main hall. The headline act are a band who these days can cook up an audience into a state of uninhibited love and adulation. There's dancing, not so much the fist-pumping kind you'll see at the average Rock gig, more the floppy, shape pulling old style vintage clothing indie dancing that came about with the arrival of The Smiths. There's dancing on stage too, by the end a very large section of the audience crowd the performance area at the behest of the band. For the most part, they grab the opportunity to cut loose with gusto although it baffles me that a couple completely waste the moment by walking around the stage holding their phones up recording it all. It's a bit like people going to a gig just to talk their way through the whole event but that happens almost every time I watch live music so maybe there's a rant for another article.
Tonight, Belle and Sebastian played a great show, a masterclass in the art of modern pop performance. This is the 21st Century and it feels like almost everything in the pop arena references vintage sounds in some recycled way. Even Grime will have it's 20th anniversary soon you know? But where this band exude class is in how they always wrap their influences around superior original songs. Their most recent albums introduced a love of Disco, Electro and Dance to the arsenal of styles and considering how closely they were aligned to quite twee, acoustic indie sounds in the past, that's quite a bold development. I must admit it was a sonic shift that didn't always work for me, the quality in their songs historically revealed in subtle details of the storytelling and gentle melodic progressions. To find their music arriving dressed in electronics that, on first hearing, can appear a little bland meant suddenly the songs needed more work before the shell was cracked and the inner wonderfulness was revealed.
Performed live it's a different matter entirely. The modern-day Belle and Sebastian are a colourful, vibrant and thoroughly danceable experience. They stay in touch with their past lives of course and when the tempo drops for the melancholy 'Fox In The Snow' there's a tangible gush from the crowd. Selections from classic 1996 debut album 'Tigermilk' are occasional special treats these days but still the Velvets pop of 'I Don't Love Anyone' is always a delight as it was tonight. Recall those early shows of some two decades ago and Belle And Sebastian were a band who seemed wholly ill-suited to live performance. Their shows were criticised for the shambolic between-song gaps tuning guitars and the sometimes woefully low volume. Today Stuart Murdoch is every bit the natural frontman, striking the rock poses from first bar to final encore and even mixing it with the crowd at stage front a-la Bono. Yet I'm convinced he's pulled off the rare trick of being able to walk down the street unmolested. Indeed, the stories he told tonight of delays at Ely train station and taking in notable Cambridge landmarks did not sound like the antics of a man unable to move about freely due to a prohibitive rock star status.
In 2018 the band have released music with a retro nod to their indie roots by putting out an album's worth of material as three EP's. The mainly feelgood nature of the pop stylings heard on these releases ('The Same Star' has that insistent rhythm and production that worked so fantastically well on so much 60s Motown) means they sit perfectly in tonight's set. I'd say at least a quarter of the set is taken from the new material although ironically one of the best new songs, 'A Plague On Other Boys', isn't played. I could easily compile a 20 song greatest hits playlist from songs the band didn't play tonight. But doesn't that just attest to the amazing depth of their back catalogue? Bands are too often slated for living off past triumphs rather than moving forward and staying creative. A failure to be spontaneous is something else critically levelled at acts entering a third decade, typified by identikit gigs where the stench of 'we're only here for the money' is repugnant. Again though, that's not the case here.
As the band are conferring with the audience trying to decide what to play for the encore they break into a jam, it only fell apart when Murdoch confessed "I tried to join in, that always happens when I try and join the jam". Little moments like that show you that Belle And Sebastian are still doing this for all the right reasons.
Review by: Danny Neill
Photo: Roger Goodgroves (c)2015