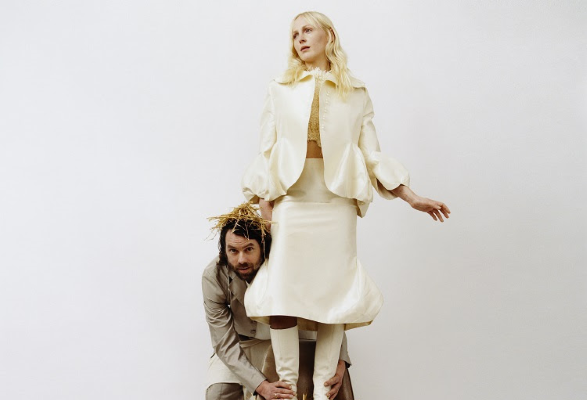 Laura Marling and Tunng's Mike Lindsay new LUMP album 'Animal' will be the second full-length to come from their dreamy collaborative project, and is due out on 30 July 2021.
The pair have shared new track 'We Cannot Resist' from their upcoming sophomore release.
Lindsay commented, "It wants to be this massive pop track, but it's been twisted. I like that when the chorus comes in you're like 'Wow!' It's this huge pop chorus, but then it becomes really creepy with the whispered 'We cannot resist'".
LISTEN TO IT HERE:
'We Cannot Resist' follows previous songs 'Climb Every Wall' and the record's title track, which marked the pair's first new music since dropping their acclaimed eponymous debut album back in 2018.
CHECK OUT THE MUSIC VIDEO FOR 'ANIMAL' HERE:
Although 'Animal' started out as a word Marling threw into a lyric simply to meet a rhythm, it quickly captured the mood of both the album and band.
The British songstress commented, "There's a little bit of a theme of hedonism on the album, of desires running wild…And also it fed into the idea we had from the start of thinking of LUMP as a kind of representation of instincts, and the world turned upside down."
Lindsay added, "We created LUMP as a sort of persona and an idea and a creature…Through LUMP we find our inner animal, and through that animal we travel into a parallel universe."
LUMP have also confirmed that they will be hitting the road on tour in support of the new album this August/September – details below:
Manchester Gorilla, 31 Aug
Leeds Brudenell Social Club, 02 Sept
Bristol Trinity, 03
Brighton Patterns, 05
London Scala, 06
Tickets on sale now from Gigantic Eventim Ticketmaster Ticketweb See Tickets
LUMP 'Animal' Full Album Tracklisting:
Bloom At Night
Gamma Ray
Animal
Climb Every Wall
Red Snakes
Paradise
Hair on the Pillow
We Cannot Resist
Oberon
Phantom Limb
Image Credit: Steph Wilson