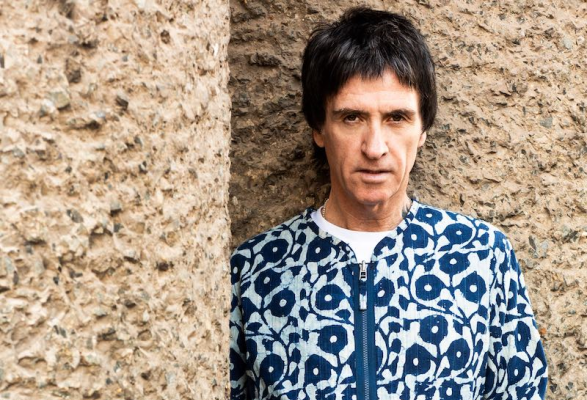 Johnny Marr has shared details of new album 'Spirit Power: The Best Of Johnny Marr', due out on 03 November 2023 via BMG.
The new collection of tracks highlights the breadth of the English musician and songwriter's musicality across the first ten years of his prolific solo career.
The full-length will also feature two brand new songs 'Somewhere' and 'The Answer', produced by Johnny Marr alongside co-producer James Doviak.
Johnny wrote the anthemic 'Somewhere' whilst on tour with The Killers and Blondie back in 2022. Discussing the track he said, "I've played a lot of arenas over the years, and in terms of songwriting, there's nowhere to hide. For a song to work, it has to be a banger. I know it's almost uncool to think in those terms, but I grew up in a house where my parents listened to Motown, where you couldn't get a song released if it wasn't full of hooks."
WATCH THE OFFICIAL MUSIC VIDEO HERE:
Personally curated by Johnny Marr, 'Spirit Power' encompasses songs from across four widely acclaimed UK top ten solo albums, including 2013s 'The Messenger', 2014s 'Playland', 2018s 'Call The Comet' and 2022 double album 'Fever Dreams Pts 1-4', as well as non-album single releases 'Armatopia' and 'The Priest' (w/ Maxine Peake). Also featured alongside the two brand new songs is a cover version of Depeche Mode's 'I Feel You', released for Record Store Day 2015.
Furthermore, the Deluxe CD edition of the album will include five previously unheard demos and rarities, 'Hi Hello' (Demo), 'Somewhere' (Demo), 'The Answer' (Crazy Face Version), 'The Messenger' (Demo), and 'Speak Out Reach Out' (Crazy Face Version).
Johnny Marr has lined-up two very special homecoming concerts at the Factory International Aviva Studios in Manchester on 07 & 08 December 2023 where, for the first time, he and his band will be joined by a 30-piece orchestra to perform a full career-spanning set.
Remaining tickets on sale now from here
'Spirit Power: The Best Of Johnny Marr' will be available on heavyweight 2LP, CD and a limited Deluxe 2CD featuring additional material. Independent record shops have a limited gold 2LP while HMV will carry a limited Cobalt blue 2LP. An exclusive limited double picture disc plus merchandise bundles will be available from the official Johnny Marr store.
PRE-ORDER & PRE-SAVE HERE:
I'm very pleased to announce 'Spirit Power, The Best Of Johnny Marr', celebrating the first ten years of my solo career: https://t.co/Y95tXjDAFV pic.twitter.com/aChOnP5D5N

— Johnny Marr (@Johnny_Marr) September 20, 2023
In addition, the upcoming publication of new photography book 'Marr's Guitars' is set for release on 17 October 2023 via Thames & Hudson.
'Spirit Power: The Best Of Johnny Marr' Deluxe 2CD Full Tracklisting:
Armatopia
New Town Velocity
Easy Money
Spirit Power & Soul
Hi Hello
Somewhere
The Messenger
I Feel You
The Answer
Dynamo
Spiral Cities
Night and Day
Sensory Street
Walk Into The Sea
Candidate
Tenement Time
Hi Hello (Demo)
Somewhere (Demo)
The Answer (Crazy F Version)
The Messenger (Demo)
Speak out Reach Out (Crazy F Version)
Image Credit: Andrew Cotterill / PRESS