Inspiring Quotes From Musicians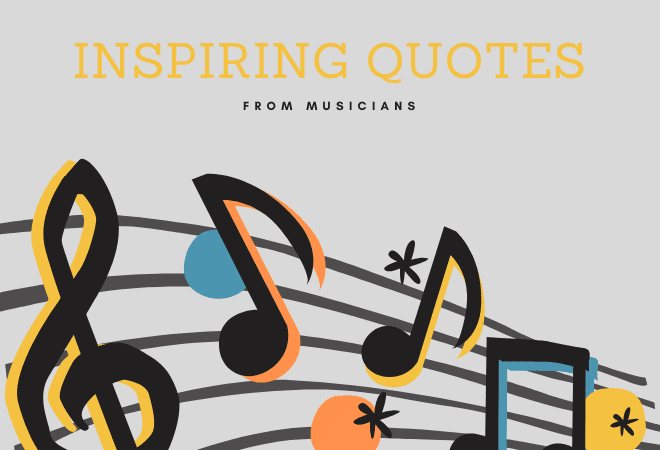 Musicians, songwriters and singers do so much more than just provide us with something good to listen to. They create songs that inspire, motivate and help us celebrate the good times as well as get us through the bad.
As we head into the New Year, here are some of our favourite wise words from talented musicians across different eras and genres.
"Life is what happens when you're making other plans." John Lennon
"Be your own artist, and always be confident in what you're doing. If you're not going to be confident, you might as well not be doing it." Aretha Franklin
"You build on failure. Use it as a stepping stone and close the door on the past. Don't try to forget the mistakes, but don't dwell on it." Johnny Cash
"Music can change the world because it can change people." Bono
"The true beauty of music is that it connects people. It carries a message, and we, the musicians, are the messengers." Roy Ayers
"Wanting to be someone else is a waste of the person you are." Kurt Cobain
"Despite everything, no one can dictate who you are to other people." Prince
"Until you're ready to look foolish, you'll never have the possibility of being great." Cher
"One thing I've learned is that I'm not the owner of my talent; I'm the manager of it." Madonna
"The roughest roads often lead to the top." Christina Aguilera
"If everything was perfect, you would never learn and you would never grow." Beyoncé
"Never stop fighting no matter what anyone says. If it's in your gut, your soul, there's nothing, no worldly possession that should come between you and your expression." Kanye West
"Embrace what makes you unique, even if it makes others uncomfortable. I didn't have to become perfect because I've learned throughout my journey that perfection is the enemy of greatness." Janelle Monáe
"Find someone who has a life that you want and figure out how they got it. Read books, pick your role models wisely. Find out what they did and do it." Lana del Rey
"No matter what happens in life, be good to people. Being good to people is a wonderful legacy to leave behind." Taylor Swift