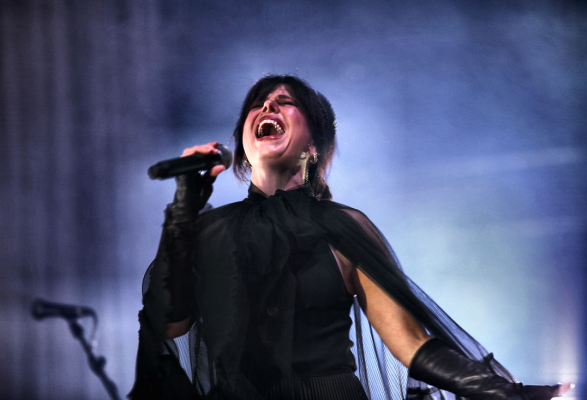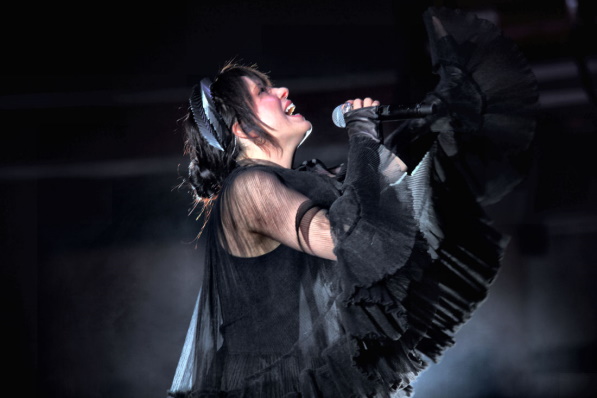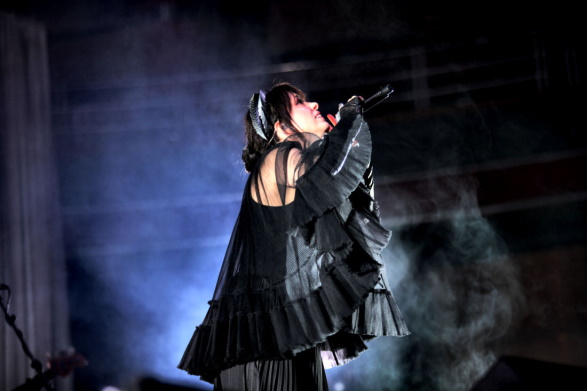 The audience tonight in the Symphony Hall have a distinct advantage over us. Obviously, they are probably long-term fans of Imelda May's, us not so, as when she first became well-known, we thought she was a bit too jazzy for us, and so didn't really keep up with her work. Well, you can't listen to everything can you? So lately we have heard a couple of tracks which were a little more to our liking namely quicker, rockier, so when we were given the chance to catch her live, why not.
She came on in a very lacy gothic looking outfit before kicking off the night with the title track off her new album '11 Past The Hour', which is a very slow atmospheric number, followed by 'Levitate', a similar paced song. And although I liked them, I was a little worried about the atmosphere in the Symphony, as in our experience, it is frowned upon to go mad and actually stand up, by the sometimes over eager security. Maybe this was going to be the type of concert that this kind of song was going to be the kind you sat and appreciated. Until launching into 'Just One Kiss', which she recorded with Noel Gallagher and Ronnie Wood, this was one of the songs that piqued our interest. With this, as happens time and time again in this Hall, the audience got on their feet and the atmosphere changed. And although there were sit down tunes like 'Don't Let Me Stand On My Own', for most of the rest of the night she kept them up with tunes like 'Big Bad Handsome Man' and 'The Longing', before ending with a 3 song encore, including a tribute to her friend Meat Loaf with 'I Would Do Anything For Love', and a storming version of 'Nina Cried Power'.
She has a fantastic voice and to be honest she could sing the phone book, remember them? And it would sound interesting, with so many styles in her repertoire she is an intriguing artist, which is good, you can't really pigeonhole her. But we are intrigued enough to now listen to more of Ms May's music and would love to see her again on the next tour, which is why artists tour I suppose. As I have said, very intriguing.
Photos by Geoff Griffe
Review by Jenny Griffe