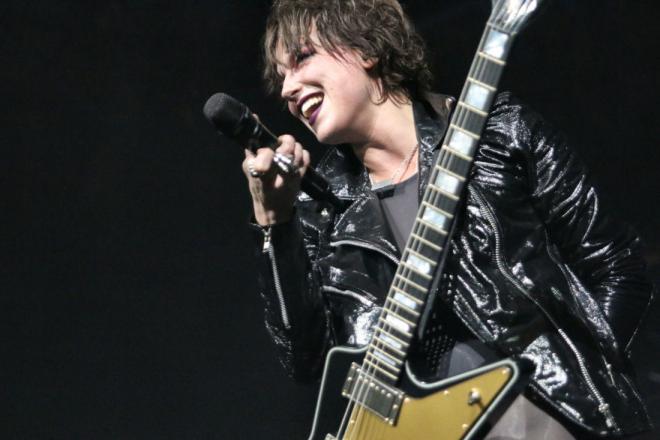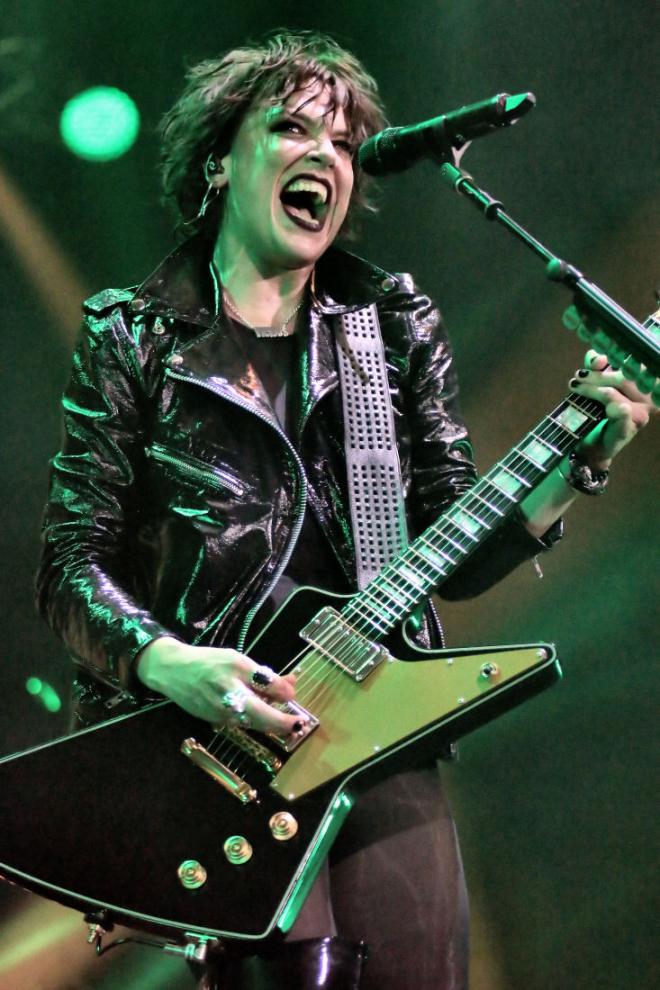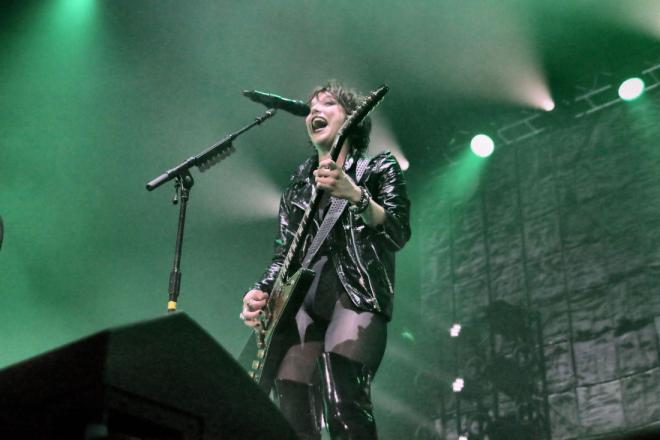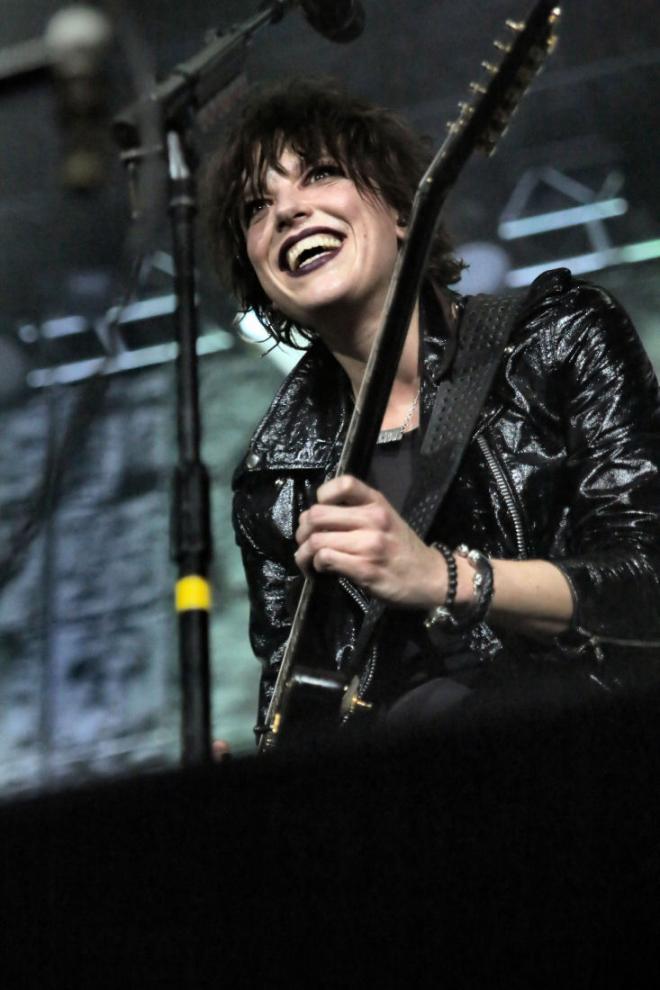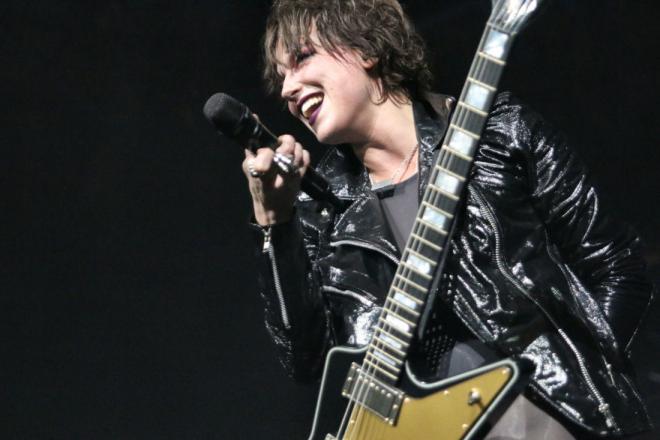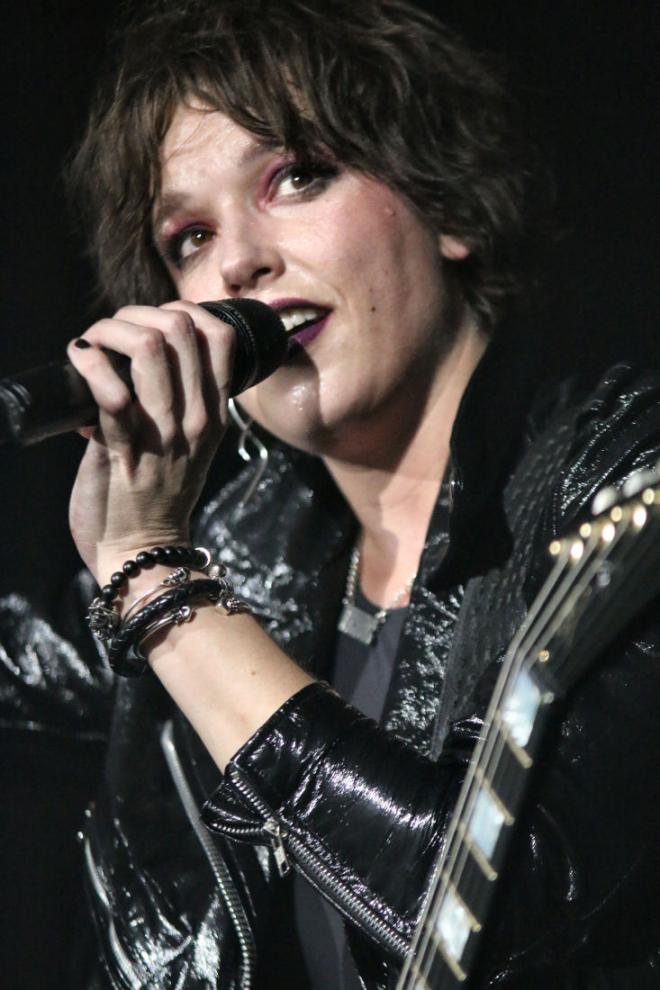 By the time we arrived second support band In This Moment were on stage and already the atmosphere was electric. ITM are a very visual band, playing in horror masks and dressed accordingly, with vocalist Maria Brink appearing and disappearing between songs constantly changing into different flowing costumes and even fox like masks. Joined on stage by two dancers, she has a fantastic voice and goes down a storm with the long, long sold out crowd. As a so called warm-up band, they take some beating and even if you couldn't call yourself a ITM fan, you couldn't help but enjoy and admire their stage show.
We have been big fans of Halestorm for many years and this type of arena are where they should always be. Although it's always nice to see such a great band in smaller venues, you know you're in for a great night no matter what size, and as soon as vocalist Lzzy Hale comes on and screams "are you a freak like me"! After the song title, it was full throttle rock, 'Love Bites', 'Apocalyptic', 'I Am The Fire' and 'Here's To Us' – all big well known songs. But I could list all the songs, they are all awesome as they now have a back catalogue other bands would die for, delivered as if their life depended on it.
With a great lighting set up this was a night you won't forget in a hurry, and even a fantastic drum solo performed by Lzzy's brother Arje was as usual, entertaining, classy, but never boring. We have said it before and tonight yet again, she proves that in our opinion that Lzzy has got to be one of, if not the best woman rock vocalist out there. But apart from a ripping vocal and a high note like an 747 taking off, she proved just how good a singer she is when she took to the stage on her own at the keyboard and sang 'In Your Room' morphing into 'Dear Daughter' and into Adele's 'Someone Like You'. It was spine-tingling, the control and feeling was incredible.
Even brilliant nights have to end and going out on 'Miss The Misery' the crowd were as we were, utterly euphoric and hoping that we won't have to wait too long for another album and hopefully another tour. Now that's how you do an arena gig, Hail Halestorm!!
Photos by Geoff Griffe
Review by Jennifer Griffe