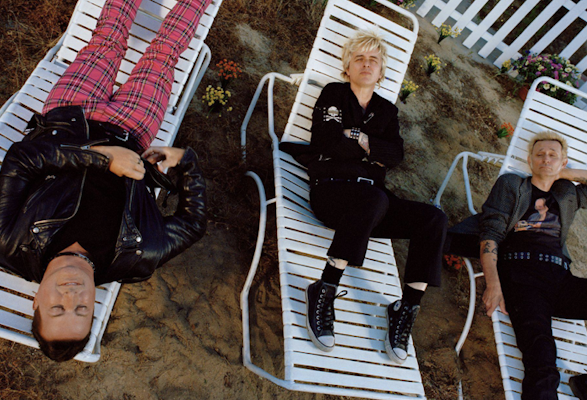 Green Day are back with brand-new single 'The American Dream Is Killing Me'.
The track is the opening number from the global rock superstars forthcoming 14th studio album 'Saviors', due out for release on 19 January 2024 via Reprise/Warner Records.
The single is accompanied by a film noir inspired black and white music video, featuring Green Day in the midst of a zombie apocalypse. The video was directed by Brendan Walter and Ryan Baxley and shot in Los Angeles.
WATCH HERE:
The band debuted 'The American Dream Is Killing Me' and 'Look Ma, No Brains!' from the new album live last weekend during their triumphant Las Vegas, NV, takeover. In addition to a surprise, sold-out show at the 800 capacity Fremont, where they performed 'Dookie' in full, they played two headline performances at the When We Were Young Festival.
'The American Dream Is Killing Me' was one of the last tracks written and recorded by Green Day for 'Saviors'. Frontman Billie Joe Armstrong commented, "As soon we cut it, we said, Okay, that's going first." He went on to describe the new song as "a look at the way the traditional American Dream doesn't work for a lot of people – in fact, it's hurting a lot of people."
'Saviors' will be available in various exclusive vinyl versions, including neon pink with neon green splatter and black ice with hot pink splatter, with most in very limited supply and pressed only once.
Recorded in London and Los Angeles, the full-length is the latest collaboration between Green Day and Grammy-winning producer Rob Cavallo, whose notable previous work with Green Day includes two of the band's most iconic albums, 1994s 'Dookie' and 2004s 'American Idiot'.
PRE-ORDER THE ALBUM HERE:
New album 'Saviors' out January 19th, 2024

Pre-order: https://t.co/cFN02gBSNZ
Limited exclusive vinyl: https://t.co/qTWVEJQhKB

The first single "The American Dream Is Killing Me" is out now

Watch the epic video: https://t.co/sXEUgrXw7X
Stream the song:… pic.twitter.com/SnnzfD1bCT

— Green Day (@GreenDay) October 24, 2023
Green Day is Billie Joe Armstrong, Mike Dirnt and Tré Cool.
Image Credit: Emmie America / PRESS