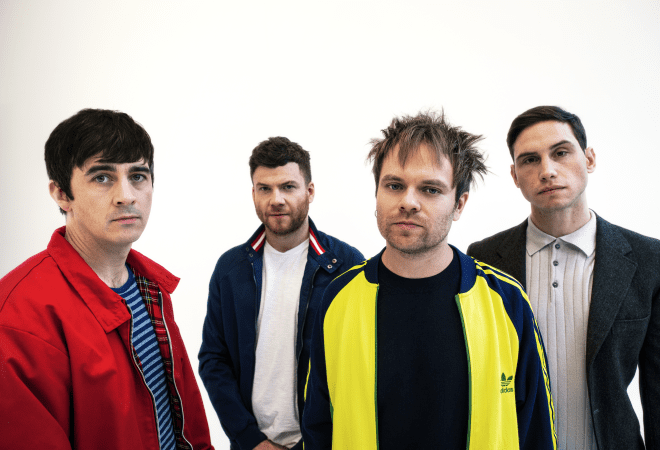 Enter Shikari have dropped new track 'T.I.N.A.', taken from their highly anticipated upcoming album 'Nothing Is True & Everything Is Possible', due out on 17 April 2020.
The track follows previously released singles 'The Dreamer's Hotel' and 'The King' after the genre-busting quartet were forced to cancel a handful of album launch shows due to the coronavirus outbreak.
LISTEN TO 'T.I.N.A.' HERE:
The inspiration behind the new album came while putting together their book 'Dear Future Historians', charting the lyrical creativity of the band. Frontman Rou Reynold commented, "Looking at all we had achieved, gave us a better sense of perspective and confidence……. What are we capable of? What is possible? These questions are part of Shikari's DNA. But now we reflect a society where possibility itself has drifted from something of optimistic opportunity to something quite frightening."
To date the band has dropped 4 Top 10 Albums, accumulated millions of streams as well as sold out huge world tours. They have received multiple awards, including Best Album at the 2018 Kerrang! Awards for their previous album 'The Spark' and were crowned Best Band by Rocksound last year.
Enter Shikari November 2020 UK tour dates plus special guests Dinosaur Pile-Up:
Southampton O2 Guildhall, 11 Nov
Manchester Victoria Wareouse, 12
Cardiff Great Hall, 13
London Alexandra Palace, 14
Middlesborough Town Hall, 16
Nottingham Rock City, 19
Nottingham Rock City, 20
Birmingham O2 Academy, 21
Tickets on Presale Thursday (26 March) at 10am from Gigantic
Tickets on sale Friday (27 March) at 10am from Gigantic AXS Ticketmaster Ticketweb See Tickets
Check out the full 'Nothing Is True & Everything Is Possible' Album Tracklisting below:
The Great Unknown
Crossing The Rubicon
{ The Dreamers Hotel }
Waltzing off the Face of the Earth (I. Crescendo)
modern living…
apocoholics anonymous (main theme in B minor)
the pressure's on
Reprise 3
T.I.N.A
Elegy For Extinction
Marionettes (I. The Discovery of Strings)
Marionettes (II. The Ascent)
satellites
the king
Waltzing off the Face of the Earth (II. Piangevole)