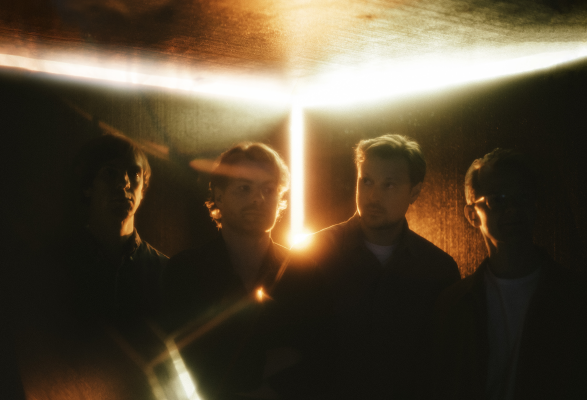 Django Django have shared new track 'Free From Gravity', the third single from their highly anticipated fourth album 'Glowing in the Dark', due out on 12 February.
The band explained, "It's really about the planet being in such a mess that we eventually have to leave."
The video for 'Free From Gravity' was shot by British director Jim Canty on location in Mystic, Connecticut over the holiday period. It documents a day in the life of what appears to be a child dressed in a green alien costume.
Django Django's Dave Maclean discussed the visuals saying, "The idea for the video came to me one evening in lock down. I've been heavily into sci-fi and the whole extra-terrestrial thing since I was a kid reading books about the unexplained. It's about someone who feels alienated in life and that idea is taken to the extreme where they're actually feeling alienated because they don't belong on this planet!"
WATCH THE MUSIC VIDEO HERE:
The new single follows recently released tracks 'Glowing In The Dark', 'Spirals' and 'The Ark'.
'Glowing in the Dark' is the follow-up to 2018s 'Marble Skies' and 'Winter's Beach' EP. It will also feature a collaboration with Charlotte Gainsbourg.
The band's sophomore album 'Born Under Saturn' dropped back in 2015 after their Mercury Prize-nominated self-titled debut in 2012.
'Glowing in the Dark' Full Album Tracklisting:
Spirals
Right The Wrongs
Got Me Worried
Waking Up (feat. Charlotte Gainsbourg)
Free From Gravity
Headrush
The Ark
Night Of The Buffalo
The World Will Turn
Kick The Devil Out
Glowing In The Dark
Hold Fast
Asking For More