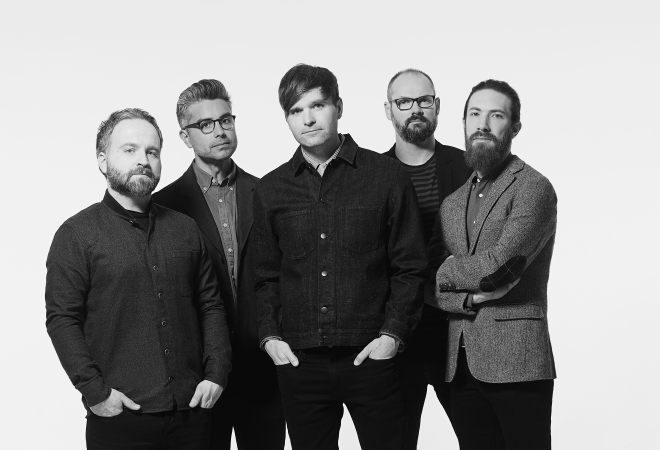 Death Cab For Cutie announce 'The Blue' EP, due out for release on 06 September 2019.
In addition, the band have shared the first track from the project, entitled 'Kids In '99'. The song was penned as a tribute to three children who lost their lives in the 1999 Bellingham Olympic Pipeline explosion in Seattle, Washington.
Death Cab For Cutie's Ben Gibbard commented, "The Olympic Pipeline explosion in 1999 was a tragedy that really affected me while we were living in Bellingham. After all these years I felt it was worthy of its own folk song."
LISTEN TO IT HERE:
The US indie rockers dropped their debut album 'Something About Airplanes' in 1998. Years later after signing with Atlantic Record, their 2005 fifth studio release and breakthrough album 'Plans' earned them RIAA platinum certification and featured chart-topping singles 'Soul Meets Body' and 'I Will Follow You Into The Dark'. The band also received Grammy nominations for 'Best Pop Performance By A Duo Or Group With Vocals' and 'Best Alternative Album'. 'Directions', the 2006 DVD companion to album secured them another nod at the Grammys for 'Best Longform Music Video'.
The RIAA gold certified 'Narrow Stairs' arrived in 2008, followed by 'The Open Door' EP in 2009 and Codes And Keyes' in 2011, all of which received high critical acclaimed and even more Grammy nominations.
Death Cab For Cutie's eighth studio album 'Kintsugi' was released in 2015 and debuted at No.1 on the Billboard Top Alternative Albums and Top Rock Albums charts. The record was also honoured with a Best Rock Album" nomination a the 58th Annual Grammy Awards – the iconic band's eighth overall nod.
'The Blue' EP follows last year's 'Thank You for Today' – check out the full tracklisting below:
To The Ground
Kids in '99
Man In Blue
Before The Bombs
Blue Bloods