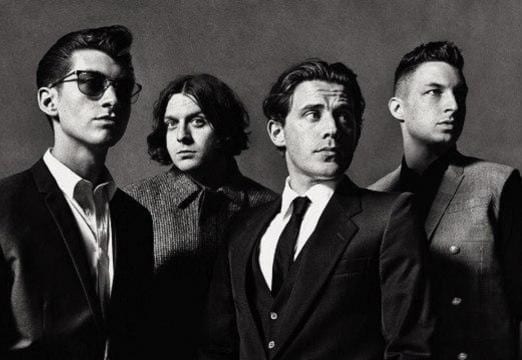 Arctic Monkeys fans have been eagerly awaiting news of their return to the music scene since. So, to satisfy our musical cravings in the meantime, we're looking back at some of the Arctic Monkeys most memorable music moments so far – because let's face it, there'll be plenty more to come!
Their Breakout Hit
After forming in 2002 the band's debut single 'I Bet You Look Good On The Dancefloor' shot straight to the top of the UK Singles Chart in October 2005. The hit track was taken from their debut album 'Whatever People Say That I Am, That's What I'm Not', which sold more copies in the UK during its first week of release than any other debut album at the time. The iconic music video was filmed in the style of British television music show 'The Old Grey Whistle Test.' The song made a return to the charts after the band performed it at the London 2012 Olympic Games opening ceremony.
Their Short Film
The Sheffield four-piece's second successive UK No.1 belongs to 'When The Sun Goes Down', which inspired them to create short film 'Scummy Man.' Clips of the film, which took home the award for Best DVD at the 2007 Shockwaves NME Awards, are featured in the official music video.
That Speech
Who could forget Alex Turner's speech at the 2014 BRIT Awards that left many people questioning exactly what the frontman might have consumed on the night after the band was awarded Best British Album. "Yeah, that rock'n'roll, it seems like it's faded away sometimes, but it will never die. And there's nothing you can do about it." Mic drop. Brilliant.
Those Covers
They've delivered some epic song covers over the years from Girls Aloud to Drake and this gem that was so good it featured on the b-side of their single 'Crying Lightning'. The Nick Cave & The Bad Seeds cover is also on the official soundtrack of Peaky Blinders season two.
Their Music
The Arctic Monkeys have a long list of top tracks to choose from such as their 2007 hit 'Fluorescent Adolescent', which Alex Turner's ex-girlfriend helped pen, as well as 'Crying Lightning', the lead single off third studio album Humbug. 'Do I Wanna Know' is another fan favourite and was the first of their tunes to enter the Billboard Hot 100 Chart in the US and earned them a Grammy nomination in 2014 for Best Rock Performance.
Have you got an Arctic Monkeys memorable music moment to add? Let us know on Twitter or Facebook!