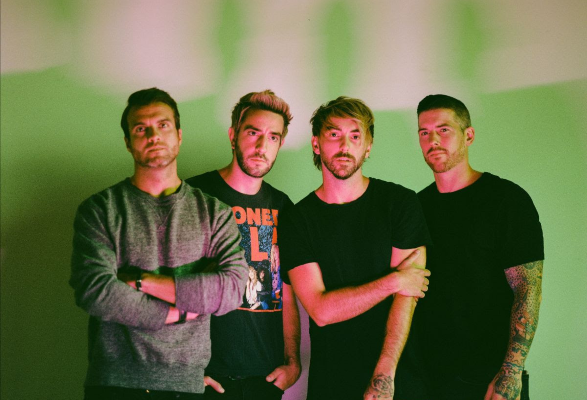 All Time Low have dropped brand new single 'Once In A Lifetime' alongside an accompanying Max Moore directed music video.
For the track, the US platinum-selling band once again teamed up with frequent collaborators Zakk Cervini and Andrew Goldstein, who also helmed their critically acclaimed 2020 full-length release 'Wake Up, Sunshine', which peaked at No.3 on the UK Official Album Chart.
Frontman Alex Gaskarth commented, "'Once In A Lifetime' is a song about loss and dealing with loss, facing harsh realities and coming out the other side stronger for it…We wrote this song in bleaker times, in a world still asleep at the wheel that left us all relearning how to navigate the uncertain roads ahead, but ultimately there is a hopeful undertone to the entire sentiment. Things can only be so bad and once it's over, it's over; there's room to start rebuilding. This song feels like it's cut from the same cloth as 'Monsters': a progression and continued evolution from the celebration of All Time Low that was Wake Up, Sunshine."
CHECK OUT THE 'ONCE IN A LIFETIME' MUSIC VIDEO HERE:
The track follows All Time Low's hit single 'Monsters' ft. multi-platinum singer-songwriter and producer blackbear. It notably earned the group their first No.1 at US radio and remained in the top spot of the Billboard Alternative Airplay Chart for an unprecedented 17 weeks. In addition, global superstar Demi Lovato joined them on a new version of the track, which has gone on to clocked-up over 100 million total streams since its December release.
All Time Low 2021 Tour Dates:
London O2 Academy Brixton, 22 Sept
London O2 Academy Brixton, 23
Manchester O2 Apollo, 26
Glasgow Barrowland Ballroom, 27
Glasgow Barrowland Ballroom, 28
Tickets on sale now from Ticketmaster See Tickets
All Time Low is Alex Gaskarth on vocals/guitar, Jack Barakat on guitar/vocals, Zack Merrick on bass/vocals and Rian Dawson on drums.