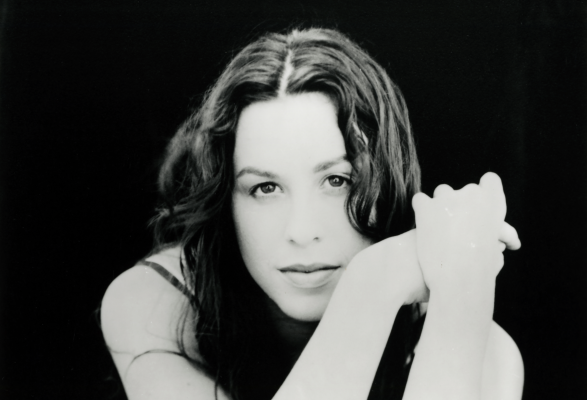 Alanis Morissette's 2005 Greatest Hits Collection will make its vinyl debut this Friday (25 August).
The release will be available as a 2-LP on black vinyl. Additionally, a transparent grape-vinyl version will be available the same day exclusively from HMV, as well as your local Record Store Day indie retailer.
Nearly two decades ago, the Grammy-winning released her jampacked greatest hits CD 'The Collection', covering her career between 1995 and 2005, when the Canadian popstar first broke out in the States.
It includes a handful of Morissette's well-known singles, several soundtrack selections, and her performance of Seal's hit 'Crazy', which debuted on 'The Collection' in 2005.
Five songs from her 1995 No.1 album 'Jagged Little Pill' appear on the set, including singles 'You Oughta Know', 'Ironic' and 'You Learn'.
The album catapulted Morissette to global stardom, earning her five Grammy® Awards, including Album of the Year. The record was certified 16x platinum and sold over 33 million copies worldwide. Furthermore, it is the 16th best-selling album of all time in the U.S. and the third best-selling album by a female artist.
Morissette returned in 1998 with the triple-platinum album 'Supposed Former Infatuation Junkie', which is represented on 'The Collection' by a trio of songs, including the Top 20 hit 'Thank You'. 'Hands Clean' from her 2002 platinum album 'Under Rug Swept' is also featured along with 'Eight Easy Steps' from 2004's So-Called Chaos.
Several songs on 'The Collection' weren't released on Morissette's studio albums, including 'Princes Familiar' from her 1999 gold-certified MTV Unplugged album and 'Sister Blister' from the 2002
compilation 'Feast on Scraps'.
A few of the singer's soundtrack contributions are featured, such as 'Still' from Kevin Smith's 1999 film Dogma, where Morissette played the role of God.
Alanis Morissette 'The Collection' 2-LP Full Tracklisting:
Side One
1. "Thank You"
2. "Head Over Feet"
3. "Eight Easy Steps"
4. "Everything"
5. "Crazy" – James Michael Mix
Side Two
1. "Ironic"
2. "Princes Familiar"
3. "You Learn"
4. "Simple Together"
5. "You Oughta Know"
Side Three
1. "That I Would Be Good"
2. "Sister Blister"
3. "Hands Clean"
4. "Mercy" – From The Prayer Cycle
Side Four
1. "Still"
2. "Uninvited"
3. "Let's Do It (Let's Fall In Love)"
4. "Hand In My Pocket"
5. "So Unsexy" – Vancouver Sessions 2004
Photo Credit: Michele Laurita © Warner Music Group / PRESS