Gigs and Tours
The latest tour announcements can be found here. Whether it's a new rock band or a seminal artist, keep up to date with the biggest and best tours happening across the UK now. Check if your favourite band is coming to a city near you!
Monday 21 January 2019 - 12:59 pm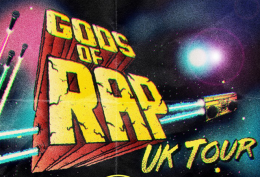 The Gods Of Rap UK Tour will celebrate some of the greatest albums…..
Thursday 17 January 2019 - 4:16 pm
Wednesday 16 January 2019 - 3:03 pm
Monday 14 January 2019 - 2:16 pm
Friday 11 January 2019 - 12:15 pm
Tuesday 11 December 2018 - 12:15 pm
Tuesday 11 December 2018 - 11:44 am
Thursday 6 December 2018 - 9:07 am
Wednesday 5 December 2018 - 6:02 pm
Monday 3 December 2018 - 12:23 pm