Imelda May brings in her friends for track and gig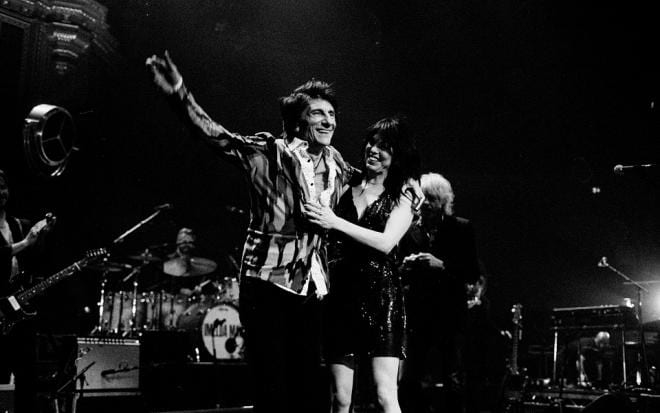 'Call Me' featuring Jack Savoretti is the brilliant new single from Irish superstar Imelda May, released today on Decca Records. Imelda also released an accompanying music video, available now.
On Wednesday evening, Imelda concluded her UK headline tour with a star-studded performance at London's Royal Albert Hall, where she was joined on stage by rock legends Ronnie Wood and Bob Geldof for a high octane rendition of the blues classic 'Crying' (photo above by Eddie Otchere). Bob and support act Andreya Triana also joined her for show closer, The Undertones' 'Teenage Kicks'. Imelda confessed to the crowd, "I'm having the time of my life" – so were the audience who we treated to Imelda's first ever headline performance at the iconic venue, where she had previously supported acts including The Who.
Produced by Cam Blackwood at ICP Studios in Brussels, 'Call Me' is a brand new recording of a track taken from Imelda's breakthrough album 'Life. Love. Flesh. Blood', which is one of the Top 5 best-selling British Female Albums of 2017.
"I wrote 'Call Me' about the horrible time when you are willing the phone to ring, begging for the name to pop up, and it doesn't," says Imelda of the song. "I've always thought it could work as a duet, and I think Jack totally nails his vocal. There's so much longing in his voice, and there's a truth to it too."
Jack Savoretti says, "Recording this duet with Imelda and Cam was one of the best experiences I have ever had in a recording studio. The song is amazing and I am proud to be part of this."
Produced by the legendary T Bone Burnett in Nashville, 'Life. Love. Flesh. Blood' entered the UK Charts at No.5 and received the best reviews of Imelda's illustrious career ("May has made the album of her life" Daily Telegraph). The album contains the BBC Radio 2 Playlisted singles 'Black Tears', 'Should've Been You', 'Leave Me Lonely', plus the original single version of 'Call Me'.
The winner of the Best Female Singer award at September's Boisdale Music Awards, Imelda was honoured with the Irish Post Artist of The Year Award 2017 at a ceremony last night at The Grosvenor Hotel. She was also recently nominated for International Artist of the Year at the UK Americana Awards 2018.
In August, Imelda performed the Irish National Anthem in front of a huge global audience of over 50 million people ahead of the historic boxing match between Floyd Mayweather and Conor McGregor, a fellow Dubliner, in Las Vegas.
Imelda has promoted 'Life. Love. Flesh. Blood' with performances on BBC1's The One Show, The Graham Norton Show and ITV's Tonight At The London Palladium. She also appeared on Chris Evans BBC Radio 2 show, where she performed a brilliant cover of U2's 'I Still Haven't Found What I Was Looking For'. She also joined The Guardian for a webchat and wrote about her favourite female icons of soul music for Marie Claire magazine
Imelda's recent UK tour was her second headline tour of 2017, her first tour in May culminated in three sold-out shows at Dublin's Bord Gais Energy Theatre. This followed a triumphant sold-out gig at London Palladium ("May's wild side was worth the wait, though her mature reinvention was the evening's real triumph" said Evening Standard in their 4* review). She then headed to the US where she performed a series of prestigious headline shows – including New York's Webster Hall – following several support dates with Elvis Costello.
Imelda May has become one of Ireland's most celebrated female artists. Discovered by Jools Holland, who asked Imelda to support him on tour, Imelda has gone on to perform alongside legendary artists including Lou Reed, Bono and Smokey Robinson and can count high profile artists including Bob Dylan (who recently revealed he is a fan of Imelda in a rare interview with Bill Flanagan) and Bono amongst her fans.