London Grammar, The National, Andre Rieu …
9Rob Brydon adds a further I Am Standing Up… show at York Barbican Centre, for Wed 11 Oct 2017, tickets from Ticketmaster
8As Lions, UK alt-rock five piece announce September shows,
Bridgend, Hobo's, 09 Sept 2017
Milton Keynes, Craufurd Arms, 10
Nottingham, Rock City Basement, 12
Bristol, Louisiana, 13
Tunbridge Wells, Forum, 14
Norwich, Waterfront, 15
Chester, Live Rooms, 17
Birmingham, Flapper, 18
Leeds, Key Club, 20
Newcastle, Jumpin Jacks, 21
Glasgow, Garage Attic, 22
Stoke, Sugarmill, 23
Manchester, Rebellion, 25
Dover, Booking Hall, 26
Bournemouth, Anvil, 27
Southampton, Joiners, 28
Leicester, Firebug, 29
London, Old Blue Last, 30
Tickets on sale 10am Monday from Gigantic Ticketmaster Ticketweb
7Grizzly Bear will embark on a headlining tour following the release of Painted Ruins
Dublin, Vicar Street, 05 Oct 201
Manchester, Albert Hall, 06
Glasgow, O2 ABC, 08
London, O2 Academy Brixton, 09
Tickets on sale 10am Wednesday 24 May from Gigantic Ticketmaster Ticketweb
6Apologia, Hollywood and Broadway icon Stockard Channing returns to the West End to star in a new production of Olivier Award winner Alexi Kaye Campbell's acclaimed drama, directed by the multi-award winning Jamie Lloyd.
Tickets from ATG Tickets
5London Grammar, the trio add further October shows,
O2 Apollo, Manchester, 17 Oct 2017
O2 Academy Brixton, London, Mon 30 Oct 2017
Tickets from Gigantic Eventim AXS Ticketmaster Ticketweb Here
4Cam Unplugged At The Tabernacle, new show at The Tabernacle, London on Friday, 02 Jun 2017, tickets at 9am on Friday from Ticketmaster
3Polaris 5, new show at indigo at The O2 London on 19 August, tickets at 11am from AXS
2Above and Beyond, the trance group feat. Jono, Tony and Paavo at The O2 arena London on 04 Nov 2017, their only planned DJ performance in London for 2017
Tickets 9am Friday 26 May from AXS Ticketmaster
1John Grant returns to the Royal Albert Hall London to chat with one of his biggest influences, Elizabeth Fraser from Scottish rock band Cocteau Twins, in an intimate Elgar Room conversation, on Sunday 23 July 2017. Tickets at 10am from Here
London Grammar, the trio announce a short October tour,
O2 Academy Leeds, Wednesday, 18 Oct 2017
O2 Apollo, Manchester, Friday, 20 Oct 2017
Eventim Apollo, Hammersmith, London, Saturday, 21 Oct 2017
O2 Academy Birmingham, Monday, 23 Oct 2017
Nottingham Rock City, 26 Oct 2017
Colston Hall, Bristol, Friday, 27 Oct 2017
Newcastle City Hall, 29 Oct 2017
Tickets 10am from Gigantic Eventim AXS Ticketmaster Ticketweb Here
The National announce their 7th studio album – Sleep Well Beast & new UK shows,
Vicar Street Dublin, 17, 18 Sept 2017
Usher Hall Edinburgh, 20, 21 Sept 2017
O2 Apollo Manchester, 22, 23 Sept 2017
Eventim Hammersmith Apollo London, 25, 26, 27, 28 Sept 2017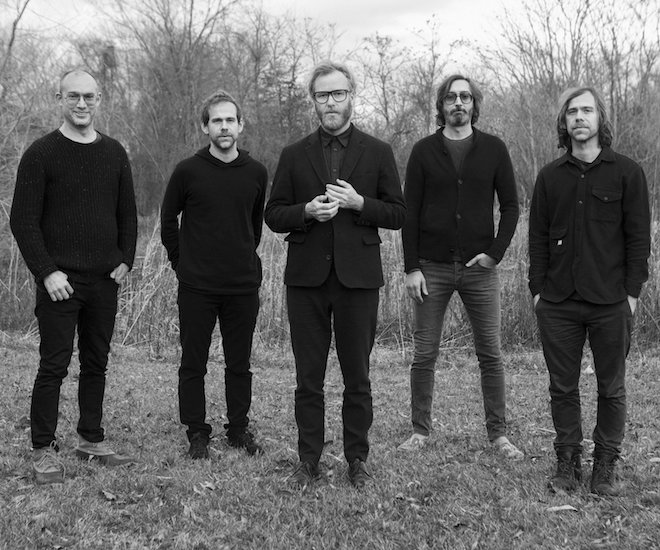 Tickets on sale at 10am from Eventim Ticketmaster
Andre Rieu adds a date at first direct arena Leeds for Fri, 15 Dec to his autumn tour, tickets at 9am from Eventim
Pet Shop Boys announce a show at Sage Gateshead, for Sat 02 Sep 2017, Tickets on sale at 10am from Ticketmaster Here
Rob Brydon adds dates in Cardiff to his I Am Standing Up Tour,
Wales Millennium Centre, Cardiff, 08, 09, 10 Oct 2017
Tickets on sale at 10am from Gigantic Ticketmaster The Ticket Factory
Ricky Gervais announces new Humanity dates for 2017,
O2 Apollo Manchester, 04 July
Watford Colosseum, 09 July
Motorpoint Arena Nottingham, 20 Sept 2017
Tickets on sale at 10am from Ticketmaster Here
Let's Rock Christmas – The Retro Show to take place on December 14th at The SSE Arena, Wembley. Tony Hadley, Kim Wilde, Nik Kershaw, Go West, Nick Heyward, T'Pau are all confirmed to appear, as are guests Katrina, Jona Lewie, Rick Parfitt Jnr, Jaki Graham, Tony Mortimer (ex-East 17) and Brother Beyond. Pat Sharp will host proceedings.
Tickets 9am from Gigantic AXS Ticketmaster
Dua Lipa to tour across the UK and Europe this October,
Brighton, Dome, 05 Oct 2017
Bournemouth, O2 Academy, 06
Leeds, O2 Academy, 08
Manchester, Manchester Academy, 10
Glasgow, O2 Academy, 11
Newcastle, O2 Academy, 13
Birmingham, O2 Academy, 14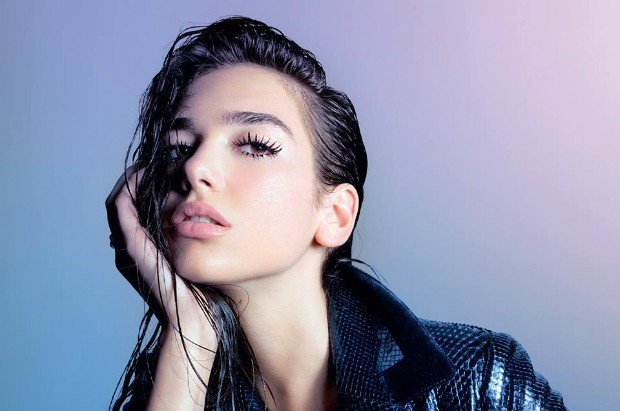 Tickets 9am from Gigantic Ticketmaster Ticketweb
Maleek Berry, new show at Scala London, London for Thursday 27th July 2017, tickets at 10am from Gigantic Ticketmaster
Paradise Lost + support from Pallbearer announce a show at Electric Ballroom, London for Friday 3rd November 2017,
Tickets on sale at 10am from Gigantic Ticketmaster Ticketweb
Nick Mulvey, the singer announces a trio of June shows,
O2 Academy2 Oxford, Sat 17 Jun 2017
Thekla, Bristol, Sun 18 Jun 2017
Village Underground, Shoreditch, London, Mon 19 Jun 2017
Tickets 9am from Gigantic Ticketmaster Ticketweb
Portugal. The Man, the rockers announce September shows,
Manchester Gorilla, 26 Sep 2017
Heaven London, 27 Sep 2017
Tickets on 9am from Gigantic Ticketmaster Ticketweb
Marty Stuart and His Fabulous Superlatives announce The Way Out West Tour,
Cadogan Hall, London, Wed 04 Oct 2017
Birmingham Town Hall, Fri 06 Oct 2017
Sage Two, Gateshead, Sat 07 Oct 2017
RNCM Theatre, Manchester, Tue 10 Oct 2017
Tickets 9am from Gigantic AXS Ticketmaster Ticketweb
Kip Moore, the country star heads over for October shows,
O2 Institute, Birmingham, Mon 02 Oct 2017
O2 Ritz, Manchester, Tue 03 Oct 2017
Glasgow O2 ABC, Wed 04 Oct 2017
O2 Shepherds Bush Empire, London, Fri 06 Oct 2017
Tickets 9am from Gigantic AXS Ticketmaster Ticketweb
Michael McIntyre – Big World Tour 2018, extra date confirmed at Motorpoint Arena Cardiff for 12 Apr 2018, tickets at 10am from Ticketmaster
Film4 Summer Screen, London's finest open-air cinema is back at Somerset House London,
Tickets on sale 10am from Ticketmaster
Marilyn Manson announces Uk shows to support new album Heaven Upside Down,
O2 Apollo, Manchester, Mon 04 Dec 2017
O2 Academy Glasgow, Tue 05 Dec 2017
Wolverhampton Civic Hall, Wolverhampton, Wed 06 Dec 2017
Newport Centre, Fri 08 Dec 2017
The SSE Arena, Wembley, London, Sat 09 Dec 2017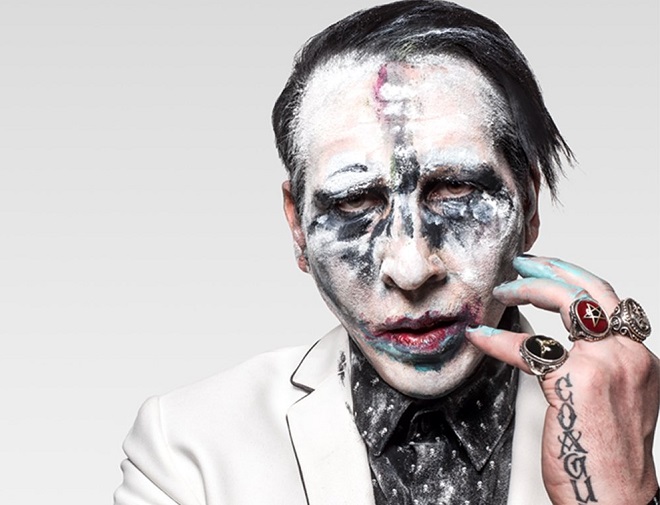 Tickets 10am from Gigantic Eventim AXS Ticketmaster The Ticket Factory
Knower, Zara McFarlane, Christian Scott, Zakir Hussain, & more for EFG London Jazz Festival taking place in the capital this autumn, tickets at 9am from Gigantic AXS
Collie Buddz, the reggae star heads over for October shows,
Manchester Club Academy, 18 Oct 2017
O2 Academy Birmingham, 19
London Electric Brixton, 20
Tickets 10am from AXS Ticketmaster Ticketweb
An Evening with Foy Vance, a further date in the capital confirmed, at Union Chapel, London, for Saturday 4th November 2017, tickets 10am from Gigantic Ticketmaster Ticketweb
PVRIS, the rockers have announced details of a UK tour,
02 Academy Bristol, 22 Nov 2017
02 Academy Birmingham, 23 Nov 2017
The Academy Dublin, 24 Nov 2017
Mandela Hall Belfast, 25 Nov 2017
02 Academy Glasgow, 27 Nov 2017
02 Apollo Manchester, 28 Nov 2017
02 Brixton Academy London, 30 Nov 2017
Tickets 9am from Gigantic Ticketmaster Ticketweb
WWE Live returns to the UK live scene this autumn,
SEE Hydro Glasgow, 01 Nov 2017
The Brighton Centre, 02 Nov 2017
SSE Arena, Wembley, 03 Nov 2017
Motorpoint Arena Cardiff, 05 Nov 2017
Manchester Arena Manchester, 06 Nov 2017
Barclaycard Arena Birmingham, 07 Nov 2017
first direct arena Leeds, 08 Nov 2017
Motorpoint Arena Nottingham, 09 Nov 2017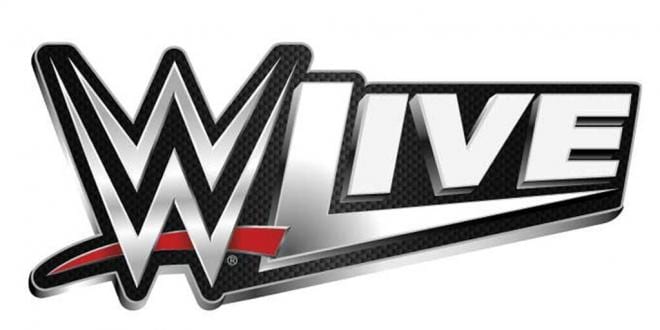 Tickets 9am from Eventim AXS Ticketmaster The Ticket Factory
Marc Almond, has announced a 17-date orchestral tour this Autumn, performing songs and hits from his 36-year career,
London Royal Festival Hall, 03 Oct 2017
Guildford G Live, 05
Scunthorpe Bath Hall, 09
Leeds Town Hall, 10
Portsmouth Guildhall, 11
Ipswich Regent Theatre, 14
Oxford New Theatre, 15
Birmingham Symphony Hall, 17
Manchester Bridgewater Hall, 19
Bristol Colston Hall, 20
Cambridge Corn Exchange, 21
Southend Cliffs Pavilion, 23
Poole Lighthouse, 26
Liverpool Philharmonic Hall, 30
Nottingham Concert Hall, 31
Bridlington Spa, 03 Nov 2017
Edinburgh Usher Hall, 05
Tickets on sale at 10am from Ticketmaster
The Charlatans line-up autumn UK shows,
Rock City, Nottingham, Wed 29 Nov 2017
O2 Academy Sheffield, Thu 30 Nov 2017
The Civic Hall, Wolverhampton, Fri 01 Dec 2017
O2 Apollo, Manchester, Sat 02 Dec 2017
O2 Academy Glasgow, Mon 04 Dec 2017
O2 Academy Newcastle, Tue 05 Dec 2017
O2 Academy Leeds, Thu 07 Dec 2017
The Great Hall – Cardiff Uni, Fri 08 Dec 2017
O2 Academy Brixton, London, Sat 09 Dec 2017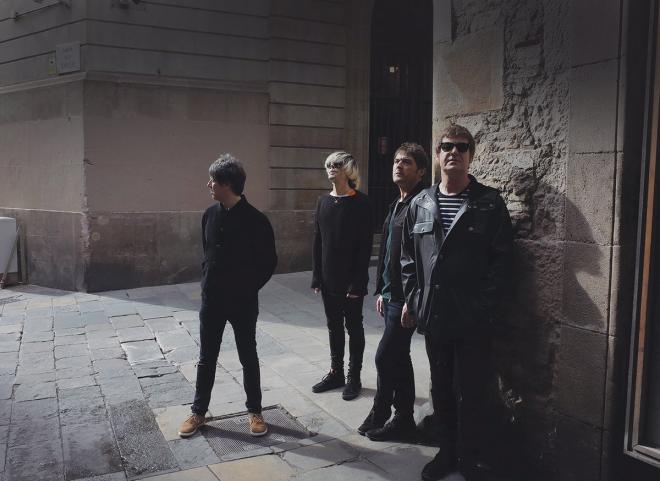 Tickets 10am from Gigantic Ticketmaster Ticketweb The Ticket Factory
Ricky Ross tours Scotland this November,
The Tivoli Theatre, Aberdeen, Wed 15 Nov 2017
Queens Hall Edinburgh, Thu 16 Nov 2017
Carnegie Hall, Dunfermline, Sat 18 Nov 2017
Saint Luke's Glasgow, Sun 19 Nov 2017
Saint Luke's Glasgow, Mon 20 Nov 2017
Tickets on sale at 9am from Ticketmaster
Cap'n Jazz, the pioneering emo band announce November shows in the capital,
The Moth Club, London, Tuesday 7th November 2017
Electric Ballroom, London, Wednesday 8th November 2017
Tickets on sale at 9am from Gigantic Ticketmaster Ticketweb
OMD, Synth-pop pioners return with their dazzling 13th studio album The Punishment of Luxury, new tour dates,
Dublin Vicar street, 23 Oct 2017
Belfast Mandella Hall, 24
Liverpool Empire, 29
Bristol Colston Hall, 30
Southend Cliffs Pavilion, 01 Nov 2017
Ipswich Regent, 02
Camebridge Corn Exchange, 03
Leicester De Montfort Hall, 05
Nottingham Royal Concert Hall, 06
Sheffield City Hall, 07
Reading Hexagon, 09
Southamton Guildhall, 10
Guildford G Live, 11
London Roundhouse, 12
Bexhill De La Warr Pavilion, 15
Manchester Academy, 17
York Barbican, 18
Glasgow Royal Concert Hall, 19
Birmingham Symphony Hall, 21
Gateshead Sage 1, 22
Tickets 9am from Gigantic AXS Ticketmaster Ticketweb
Hot Dub Time Machine, the best party on the planet at O2 Academy Brixton, London on Saturday 9th September 2017, tickets 9am from Gigantic Ticketmaster Ticketweb
Tinashe, the singer announces a show at KOKO London, for Thu 29 June 2017,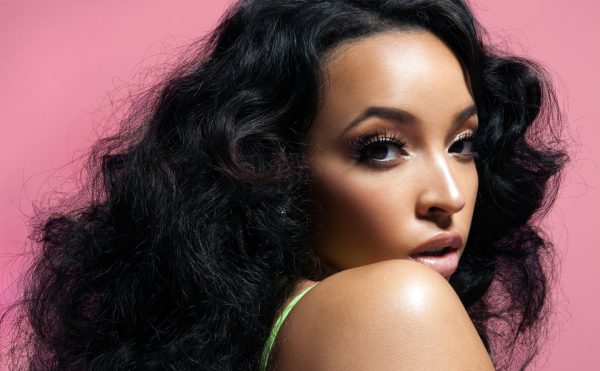 Tickets at 9am from Ticketmaster
Neil Hilborn, the bestselling author & most-watched poet of all time announces UK shows including dates as part of the Edinburgh Festival, tickets at 9am from Here Ticketmaster
Martha Wainwright adds a show at The Caves Edinburgh, for Fri 07 July 2017, tickets at 10am from Ticketmaster
Bless The Fall announce September 2017 shows, tickets 10am from Gigantic Ticketmaster Ticketweb
Stu Larsen announces UK November shows,
Brighton Haunt, 11 Nov 2017
Southampton Brook, 12
London Omeara, 14
Bristol Louisiana, 15
Nottingham Bodega Social Club, 16
Manchester Soup Kitchen Manchester, 17
Dublin Whelans, 19
Belfast Empire Music Hall, 20
Glasgow King Tuts Wah Wah Hut, 22
Edinburgh Caves, 23
Tickets 9am from Gigantic Ticketmaster Ticketweb
Lucy Spraggan announces UK acoustic shows for the autumn,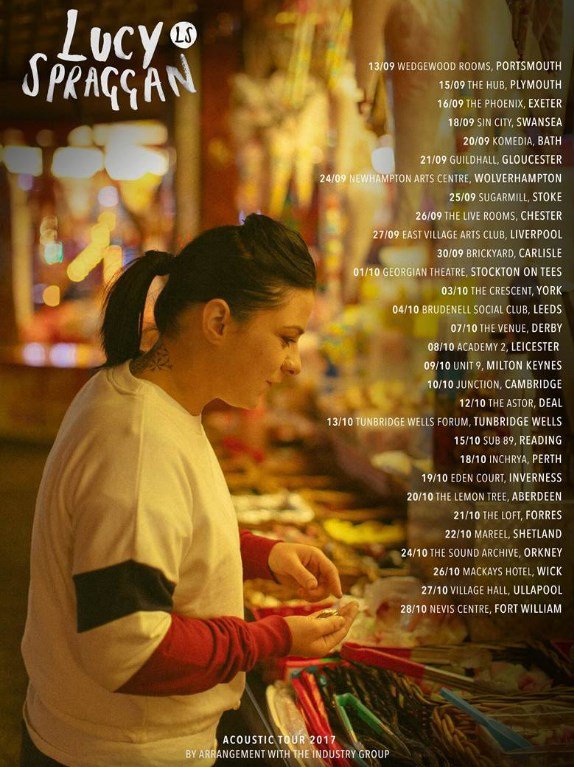 Tickets 10am from Gigantic Ticketmaster Ticketweb
Patton Oswalt, the stand-up star heads over for a show at O2 Forum, London for Wednesday 25th October 2017, tickets at 10am from Gigantic Ticketmaster
Luisa Omielan announces an Am I Right Ladies?! show for O2 Shepherds Bush Empire London, at Thu 14 Dec 2017,
Tickets at 10am from Ticketmaster
Annie Mac – AMP Collected feat. Little Dragon, Smerz and Jordan Max at Jazz Cafe, Camden, London on Wednesday, 07 Jun 2017,
Tickets 9am from Ticketweb
Engelbert Humperdinck confirmed for Theatre Royal Drury Lane, London, on Sun 19 Nov 2017, tickets at 10am from Ticketmaster
Electric Wizard have announced three UK headline shows in August, supoort from Angel Witch,
Bierkeller, Bristol, Thursday 17th August 2017
Rescue Rooms, Nottingham, Friday 18th August 2017
Newcastle Riverside, Saturday 19th August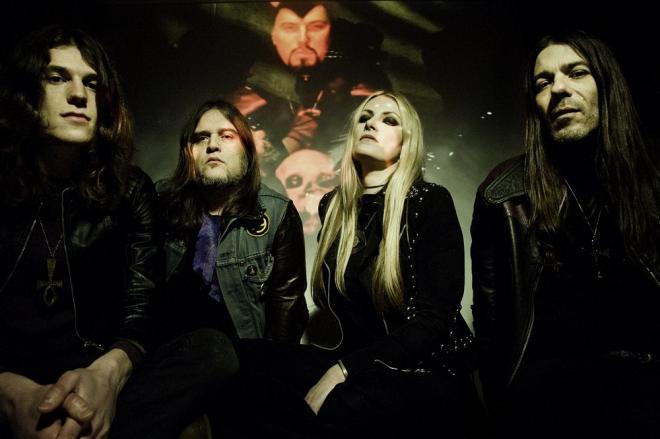 Tickets on sale at 10am from Gigantic Ticketmaster Ticketweb
Superfood have now announced details of a UK headline tour
Bristol Thekla, 04 Oct 2017
Southampton Joiners, 05
London Garage, 06
Newcastle Think Tank, 09
Glasgow King Tut's, 10
Birmingham Mama Roux's, 11
Nottingham Bodega, 12
Leicester Dryden Street Social, 13
Tickets are on sale from 10am from Gigantic Ticketmaster Ticketweb
Emiliana Torrini and The Colorist announce a show at O2 Shepherds Bush Empire London, for Fri 10 Nov 2017, tickets on sale at 9am from Ticketmaster
Francesco De Gregori, the Italian singer-songwriter heads over for a show at O2 Shepherds Bush Empire London, on Mon 23 Oct 2017,
Tickets 10am from Ticketmaster
Ocean Colour Scene with support from CHSq announce a show at Custom House Square Belfast on Fri 25 Aug 2017, tickets 9am from Ticketmaster