Ellbow – Manchester Apollo – 21 March 2017
The last gig of the Elbow tour and the last of four nights at their hometown gig of Manchester Apollo. "Too much of a good thing always leaves one wanting less" as someone once said (probably) although Basil Fawlty could be held to task. A band whose anthem hasn't yet proved to be a millstone round their necks – all roads lead almost inevitably to us throwing our curtains wide with the declaration that one day like this a year will see us right. It's their 'Stairway' but unlike Robert Plant, Guy Garvey is more than happy to make everyone's day by leading his band and their audience through one of their lighter, yet landmark moments.
Should it ever take an early retirement, there are plenty waiting in the wings to take up the mantle. 'My Sad Captains' ("for absent friends – sing along and think of someone who isn't here") – is primed ready although it's placing mid set seems slightly incongruous when it's clearly a communal moment. Even the new songs seem to be well bedded in – the glory of 'Kindling' is Elbow by numbers yet the deeply personal lyric resonates equally deeply with the fans.
Our Guy Garvey capable of keeping it simples too – "it's all gonna be magnificent, she says" he croons as the music swells behind him and "fall in luuuv with me – every day" as the now slimmed down Elbow line up in front of the drapes to open the show. He has evolved into the master of writing effusively about relationships, about his and our lives and loves or the famous one about the marriage that took place on the 135 that even the bride (to this day) doesn't know about. The biggest cheer though may be for his "I'm having a baby" line in 'Fly Boy Blue' as he remains the genial frontman; the band happy to provide the soundscape sand he's quick to acknowledge their contributions – Mark Potter gets the opportunity to throw a couple of rock god guitar shapes and create much more guitar presence than seems the case on the albums. The fact that both he and the singer are about to become dads, Garvey for the first time ("I'm shitting it") evoked end of tour/last gig shenanigans as the drums for the final encore came courtesy of some rather disturbingly nappy wearing roadies – real nappies too.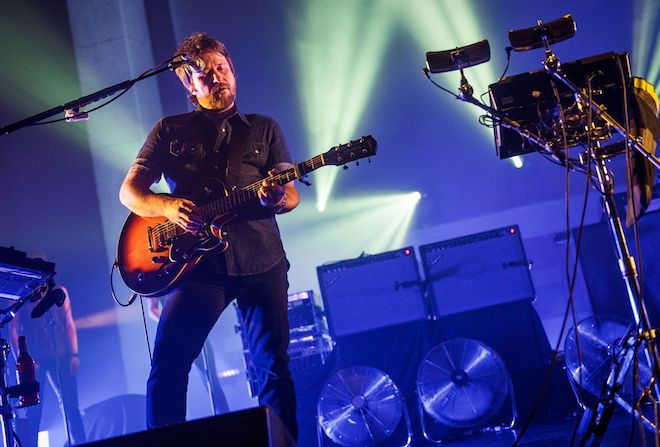 Whilst Pete Turner allows himself the occasional grin letting us know that he does actually want to be there just in case we read too much into his general motionless demeanour , he also allows himself a discrete peek up and out into the audience as the families and friends are also out in numbers. Craig Potter, the sonic architect –possibly one of the most underrated musicians of the nation and – apart from being damned handsome, apparently always wins the bets. His open check shirt over a t shirt appearance either styled as designer casual or really just what he wears everyday (bets are on the latter)
New kid on the block with Alex Reeves (a master of every language, apparently) filling Richard Jupp's shoes and receivesa Springsteen styled "Reeeeeeves" whenever he's mentioned, while the usual string section also comes in a slimmed down version, no less effective for the judicious trimming, adding gorgeous backing vocals to 'Great Expectations' in particular.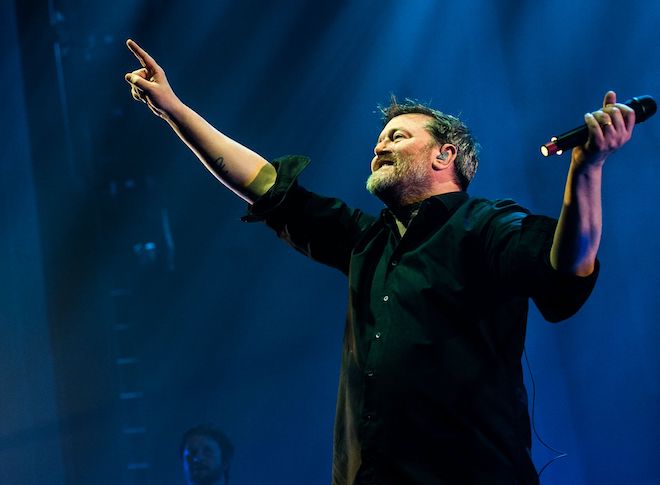 After a storming opening night on the Saturday, fans maybe out to celebrate the weekend with a drink, a gig and a chance to yes, throw those curtains wide and sway their arms in glorious uninhibited abandon. Second night syndrome may have hit with the Sunday evening seeming slightly down following the euphoria of their opening gig in town the night before – Guy appeared less effusive about being home, slightly distracted by the in ear monitor technology and for some reason the response came in peaks and troughs rather than at a series of highs. One of which throughout the residency has been 'The Birds' which has become an immense swirling slab of rock; even seeing Elbow become Hawkwind stye space rockers for a moment in the mid section freak out when the pedal goes to the floor. There's also the new albums title track whose strong tribal rhythm driven by Alex Reeves evoke the early Elbow sound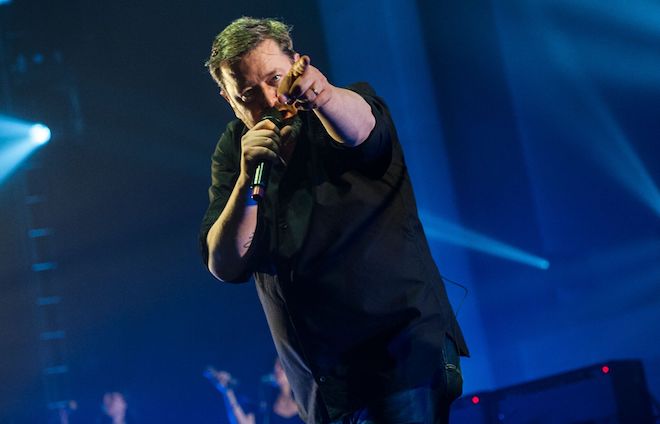 The final night though night was a little looser, with the highlights coming from a bang on Richard Hawley impression and a class moment of reminiscence from supporting the Manics at the Apollo in their early days (then the pinnacle of ambition) when the band were brought down to earth by an uncompromising "FUCK OFF!". Not to mention the adult babies…
Heroes and homecomings – all summed up with a dip for those lucky enough to be there on those nights, into the first album for 'Scattered Black And Whites': a muted yet stately eulogy which is the one that endures after the curtains have been opened. "I come back here from time to time – I shelter here some days"