Live: Hugh Cornwell – Stockton Arc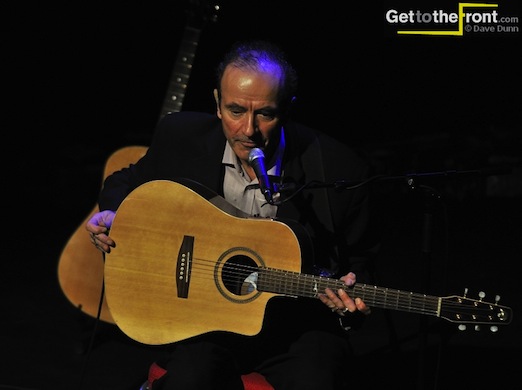 Former chief Strangler opened a short solo acoustic UK tour last night at Arc arts centre in Stockton with the very definition of an intimate performance. Since quitting the Stranglers in 1990 where he was the creative driving force as far as writing many of their hit singles, Cornwell has remained a prolific artist and performer with his latest recording, "Totem & Taboo" due for release early this year. The album is being released via PledgeMusic, the innovative Direct-to-Fan fan-funded platform which allows artists to reach out to their fan base for them to financially contribute to upcoming records thereby bypassing the need for record company involvement. The "Totem & Taboo" project has seen Cornwell offering a host of exclusives and goodies to fans from signed CDs, to handwritten lyrics through to a live set performed at your house or party!
A self-admittedly jet lagged Cornwell explained this pledge process during his amiable and chatty introduction, during which he amusingly ran through his checklist. "Guitar… spare guitar… chair… spare strings… set-list… audience." He also promised us an evening of old Stranglers songs, plenty of solo material and a preview of a few songs from the nearly completed "Totem & Taboo" and that's precisely what he proceeded to deliver.
After quickly hitting his stride with "Duchess" from The Stranglers 1979 album "The Raven", the jet-lag appeared to snap at his heels during "Land Of A Thousand Kisses", where he had to stop momentarily and check the lyrics with an audience member. A quick apology later and it was a return to The Stranglers with "Never Say Goodbye" and what Cornwell claimed was his first acoustic performance of "Nuclear Device" which if, true, worked remarkably well.
While it was terrific to hear the old Stranglers' songs pared back to their bare bones – also included during the evening were "Strange Little Girl", "Hanging Around", "Goodbye Toulouse", "Nice 'N' Sleazy", "Golden Brown" (which was performed with some joyous Mexican style mariachi guitar), "Always The Sun", "Tramp" and "No More Heroes" – Cornwell also included a fine selection of solo material including "Under Her Spell", "The Pleasure of Your Company" and "One Burning Desire", but "24/7", his ode to the joys of being Bob Dylan and sung in a Dylanesque drawl proved a highlight and was performed with a lot of affection towards his hero. And while it's safe to say that the burghers of Trowbridge might not be planning on adopting "Slow Boat to Trowbridge" to promote any tourist campaign in the near future, Cornwell delivered the scathing lyric with good humour albeit with a warning to turn your sat-nav off if visiting the town as getting lost there is a certainty.
Cornwell also delighted the appreciative – although disappointingly sparse audience – with lovely cover versions of two songs he admitted to wishing he'd written – Ricky Nelson's "Sweeter Than You" and The Everly Brothers' "Take A Message to Mary". Both came as surprises, bookending the end of his first set and start of his second.
Material from the new album "Totem & Taboo" was not over-exposed, which could perhaps suggest another tour later this year to promote its release, but "Gods, Gays & Guns", "Carroll" and the title track all sounded strong lyrically and will sound even richer with Cornwell's band behind him to fill out the sound. If the remainder of the album sounds as good as these tasters, then the sooner we get it the better. In fact, I strongly recommended you pay a visit to pledgemusic and order yourself a signed copy now as the sooner the album reaches it's pledge target, the sooner we can get to hear the rest of it. The remaining dates are below, and purchasers of VIP tickets get to choose the encores played!
27 JAN KIRKCALDY, ADAM SMITH THEATRE
28 JAN SHREWSBURY, THEATRE SEVERN
29 JAN SALFORD QUAYS, THE LOWRY
2 FEB LONDON, BUSH HALL
3 FEB NEWARK, PALACE THEATRE
4 FEB HUDDERSFIELD, LAWRENCE BATLEY THEATRE
5 FEB DARWEN, LIBRARY THEATRE
Review by David Dunn
Hear more of Hugh Cornwell at hughcornwell